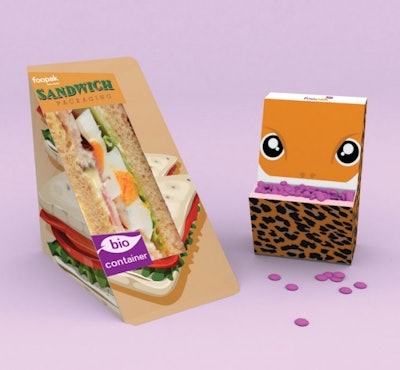 The durable paper stock capable of breaking down naturally in 12 weeks makes the boxboard an ideal alternative to commonly used plastic boxes.
The Bio Container's double coating has an outside layer that is ideal for branding and promotions with a white surface that is excellent for multi-color lithography, letter press and flexography. The inside layer provides a level 9 grease resistance, designed to protect against water and grease absorption to promote reduced food leakage. Formulated for high-speed bar heat-sealing at 80C/356F for converting and finishing and hot gluing applications.
This new offering from APP is FDA compliant and ISEGA certified for composability within 12 weeks, and available in 260-370 gsm & 13.3-23.6 caliper. Strength and sustainability combined gives brands a solution to single-use plastics that satisfies consumer demands for both quality and environmental impact.
Companies in this article