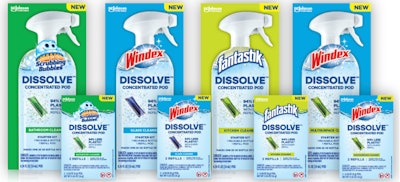 One of the first categories to embrace Refill-at-home refillable/reusable packaging systems has been the household cleaning products market, beginning with small and specialized direct-to-consumer companies and expanding to include major Consumer Packaged Goods brands offering their products at retail. One recent introduction is from multibillion-dollar global company SC Johnson.
In February 2022, the multinational producer of household consumer and professional products introduced Dissolve Concentrated Pods for its Windex Glass Cleaner, Windex Multisurface Cleaner, Scrubbing Bubbles Bathroom Cleaner, and fantastik Kitchen Cleaner. The aptly-named Dissolve system includes dissolvable pods, or sachets, that hold 0.28 oz of cleaner concentrate and a custom-designed, reusable and recyclable PET spray bottle. To create the cleaner, users drop the pod into the empty bottle, fill the container up to its shoulder with warm water, twist on the spray dispenser, and shake the bottle to dissolve the pod. Each sachet of concentrate yields 26 oz of cleaner.
While Dissolve is new, SC Johnson's efforts in Refill-at-home systems are not. In 2011, it introduced a liquid concentrate for Windex Glass Cleaner in a 2.9-oz plastic bottle, followed by Scrubbing Bubbles Bathroom Cleaner and fantastik Kitchen Cleaner refills in the same packaging. The concentrates, which are still available, are said to use 78% less plastic versus a standard 26-oz bottle with trigger spray.
According to SC Johnson Chief Communications Officer Alan VanderMolen, when the company introduced its first Windex concentrate more than a decade ago, it wanted to provide consumers with an option that offered both cost savings and environmental benefits. "But plastic waste wasn't top of mind enough for consumers, and the product never gained much traction," he says. "Since then, consumer expectations for action from corporations are increasingly higher. At SC Johnson, we have several teams, from RD&E [Research, Development & Engineering] to Procurement and Sustainability, that work to push us even further and provide consumers with an array of product options."
---
---
Despite the increasing demand from consumers for more sustainable options, however, VanderMolen believes there's a "chasm" between what they know about refillable options and what their expectations are in terms of purchasing more sustainable options. "That's where we see an opportunity," he says. "Dissolve is easy to use, is accessible at major retailers such as Target and Amazon, and reduces plastic waste by 94%" compared with a 23-oz or larger same-branded spray bottle.
When it comes to refillable/reusable packaging, VanderMolen confirms that consumers are definitely engaged. In a survey conducted by SC Johnson, it found that 91% of respondents were supportive of hearing about new refill options; 64% agreed that "reducing the amount of plastic used in products and packaging will have the most impact on our ability to achieve a waste-free environment"; 70% agreed that "developing concentrated refills for popular cleaning brands like Windex, Scrubbing Bubbles, Pledge, and fantastik so consumers can keep and reuse triggers while recycling the bottle" has an impact on creating a more sustainable world; and 61% agreed that SC Johnson promoting the use of refillable bottles to increase consumer reuse of plastic products is important to leading the charge in sustainability.
"However," notes VanderMolen, "less than half of consumers said they knew about our refill options. That's our challenge—increasing awareness and enabling consumers with more options."
In selecting products for the Dissolve Refill-at-home system, VanderMolen explains that SC Johnson chose Windex, Scrubbing Bubbles, and fantastik because they are iconic brands that offer the resources for SC Johnson to pilot the concept across its larger product lines. "Since these brands have a heavy U.S. focus, we're starting here," he says, "but we are evaluating where we can incorporate Dissolve around the world." He adds that the company is also looking at ways it can further develop the concept across other brands.
Dissolve products are available in a starter pack for $5.69; refills are available in a three-count pack for $6.59. The starter kit includes one reusable bottle and one refill pod in a flexible pouch that are sold together in a paperboard carton. The refills are packaged in a side-gusset stand-up paperboard package.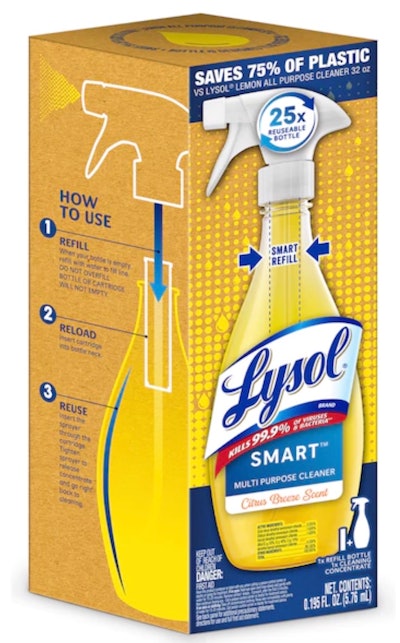 Another well-known household cleaning brand now offering a refillable/reusable packaging option for one of its products is Lysol from Reckitt Benckiser, with its new Smart Trigger + Refill system. In this case, the liquid concentrate is packaged in a plastic cartridge that is inserted, still sealed, into the neck of a custom-designed PET bottle. The trigger spray is then added to the bottle, with the dip tube fed through a hole that runs the length of the cartridge. When the dispenser is tightened onto the neck of the bottle, the concentrate is released into the container. The solution is similar, if not the same, as one used by Truman's, introduced by the D2C household cleaning company in 2019.
The Lysol bottle, which has been designed to be reused up to 25 times, is a significant departure from the brand's standard opaque HDPE spray container. The custom container sports a bulbous, bowling pin-style shape as opposed to Lysol's traditional angular design and is made from a clear PET. A clear plastic label decorates most of the bottle, with an area at the top providing visibility to the cartridge once it's inserted. A vertical perforation on the back of the label bears the words "Unzip," prompting the consumer to remove the label before recycling the bottle. The plastic concentrate cartridge measures approximately 1 in. in dia and 3.5 in. in length. It also bears a brightly colored Lysol-branded label.
The refill cartridge holds 0.195 oz of concentrate and, when added to water in the reusable bottle, produces 25 oz of cleaner. According to Lysol, this results in 75% less plastic versus Lysol Lemon All Purpose Cleaner in a 32-oz bottle. Lysol's Smart Multi-Purpose Cleaner is available in two scents: Citrus Breeze and Fresh Waterfall. Starter kits, in a 100% recycled-content, recyclable paperboard box, include the bottle, trigger spray, and one cartridge. Refills are sold in two-count blister packs with a die-cut peg hole.
---
---