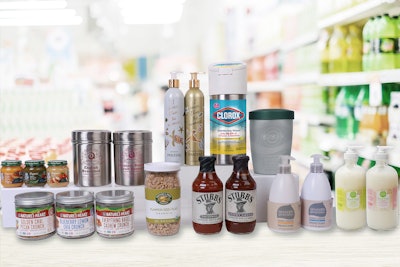 Through a first-of-its kind partnership in the U.S., America's largest grocery retailer, The Kroger Co., and circular reuse platform Loop, developed by TerraCycle, are offering a selection of products in-store in reusable packaging. The initiative launched in late February 2022 in 25 Kroger-owned Fred Meyer stores in the Portland metro area. Kroger kicked off the initiative with products from more than 20 leading consumer packaged goods companies as well as items from its own brand.
---
---
Says Kroger Group Vice President of Corporate Affairs and Chief Impact Officer Keith Dailey, "Kroger is committed to achieving lasting positive change for billions of people and for our planet. To do this, we've developed a shared-value ESG [Environmental, Social, and Governance] framework that unlocks greater business value as we work collectively to create more resilient, equitable, and sustainable systems. Our pioneering and exclusive partnership with Loop is an illustration of this commitment, and we are honored to be the first grocery retailer partner for Loop in the U.S. and work with our brands and consumer packaged goods partners to advance our mission."
While Kroger is the first U.S. retailer to bring Loop in-store, several overseas chains—Carrefour in France, Tesco in the U.K., and Aeon in Japan—are already up and running after participating in online tests. Explains Tom Szaky, founder and CEO of TerraCycle and Loop, a lot of the things that are more challenging online for the Loop platform get solved in-store. "When we had our online learning platform, and we did that in five countries, people had to shop twice," he says." They'd have to shop online and then whatever they couldn't find there, which obviously is a lot of things, they'd then shop for in-store. By putting Loop physically in the store, you eliminate the need for the consumer to shop twice. You also make people want to trial one or two products. It's very difficult to make an online reuse model work for trial purchases, unless the customer is doing big basket sizes."
The new Loop assortment at Fred Meyer includes products from a number of well-known food and household brands, such as Cascade, Clorox, Gerber, Pentene, and Seventh Generation, among others, as well as Kroger's Simple Truth brand. Consumers can purchase these CPG's products in durable, reusable packaging, paying a deposit for the containers. When the packages are empty, the consumer brings them back to the store, placing them in a collection bin managed by Loop. The consumer then gets their deposit back—either through the Loop app or, if the bin is electronic, via cash. Loop then collects the containers and takes them to one of their sorting and cleaning facilities, where they undergo a rigorous hygienic cleaning process. They are then sold back to the originating CPG for refilling, completing the circular process.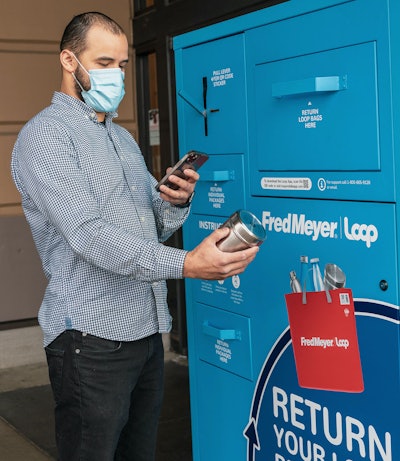 Since its inception, the Loop platform has been about making reusable packaging as convenient for consumers as disposable packaging: buy it anywhere, throw it away anywhere. In-store deployment will provide this convenience. As more retailers begin offering Loop in their stores, more collection bins will be available into which consumers can discard their empty packaging—allowing them to dispose of it anywhere. "That's why growing the in-store network is absolutely critical to make the Loop concept happen," says Szaky.
Ramping up to implement Loop in 2022 are retailers Walgreens, in 70 of its stores, and Ulta Beauty.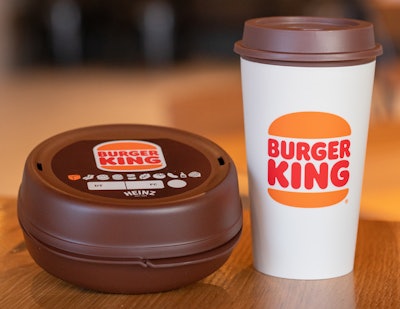 And, in late-breaking news, Loop announced in March that Burger King has launched Loop in five of its New Jersey restaurants. QSRs already using the platform include McDonald's in the U.K. and Tim Hortons in Canada. For the Burger King program, Tupperware has designed and produced a resealable container in which the restaurant can package its signature sandwiches and burgers, including the fan-favorite Whopper.
---
---