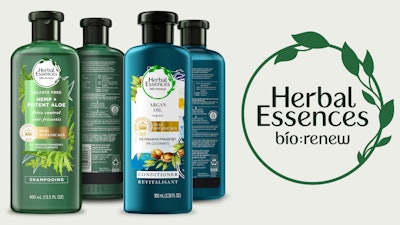 Herbal Essences, one of P&G's most iconic brands, in November introduced five shampoo and conditioner collections in primary packaging made from Eastman Renew resins with 50% certified recycled plastic, a material that uses an advanced (non-mechanical) recycling technique. The two companies have a long history of partnership, with Eastman supplying P&G a variety of specialty materials–either directly or indirectly via molder/converter partners. In this new project, the Renew material used to produce the new Herbal Essence bottles is a PET material using injection stretch blow molding (ISBM).
This commercialized project comes on the heels of an August, 2021 P&G and Eastman agreement to collaborate on initiatives that will advance the recycling of more materials, encourage recycling behavior, and prevent plastic from going to waste. The launch of Herbal Essences in packaging from Eastman Renew materials, which was timed to coincide with America Recycles Day on November 15, was the first concrete step the companies are taking to leverage Eastman's molecular recycling technologies and advance their shared commitment to the circular economy.
Molecular Recycling Technology
"Eastman's Polyester Renew Technology (PRT) is a form of advanced or chemical recycling–what we call 'molecular recycling.' Specifically, it is a form of depolymerization," says Chris Layton, Eastman's Sustainability Director for Plastics and Circular Solutions. "As the name implies, with PRT we are able to recycle polyester waste plastics. We break down those materials into their molecular building blocks, in this case Dimethyl Terephthalate and Ethylene Glycol. These molecules are indistinguishable from the same molecules produced by fossil feeds. We can then feed these recycled molecules into our existing manufacturing processes to produce our portfolio of specialty co-polyesters including Tritan Renew which goes into durable goods like Camelbak and Nalgene water bottles, appliances, medical devices, and electronics/auto applications."
With PRT, Eastman molecularly recycles polyester waste plastics. This means not only clear PE water and soda bottles, but also colored shampoo bottles, the food packaging trays seen on grocery store shelves, and even carpet and textiles. Today these "hard-to-recycle" materials generally end up in a landfill or incinerator. The technology is meant to be complementary to more traditional mechanical recycling, and Eastman ensures it isn't poaching from more easily recycled materials that the current infrastructure can easily handle, by focusing its PRT attention on hard-to-recycle materials as a feedstock.
The Herbal Essences Project
"At P&G Beauty, we have a goal of a 50% reduction in the use of virgin plastic by 2025," says Rachel Zipperian, Principal Scientist, Herbal Essences. "Mechanical recycling has limitations and chemical recycling can recycle more materials, more times. Our strategy includes incorporating PCR from both mechanical and chemical recycling to reduce the need for virgin plastic and divert plastic waste from landfills or the environment."
The ratio of 50% PRT material isn't necessarily fixed; bottles could contain more PRT in the future. Zipperian says these PET Herbal Essences bottles made in part from PRT are not limited by any functional issues, so the 50% blend currently used is based on availability from Eastman, not a need to use some percentage of virgin material for any functional purpose. Recycled content is achieved through recycled waste credits allocated by a mass balance process certified by ISCC (International Sustainability and Carbon Certification).
"We estimate that the US generates approximately 20 billion pounds of polyester waste plastic every year including PET bottles, non-bottle PET, carpet and textiles," Layton says. "Unfortunately, less than 20% of this gets recycled. So, we are confident in our ability to secure the amounts needed to feed our PRT."
"As an industry, we need to create a better infrastructure for colored PET to be collected and sorted for recycling and diverted from the landfill to get more feedstock for Eastman Renew resin," Zipperian adds.
---
| | |
| --- | --- |
| | Check out these recent articles on other advanced, chemical, or molecular recycling applications. |
---
Five Herbal Essences bio:renew sulfate-free collections, including the Aloe Vera lineup, were recently upgraded to Eastman Renew materials. These will be followed by two new collections coming to market in January 2022. These new packages will also include standardized How2Recycle® labels to clarify recycling instructions and encourage recycling behavior, even in the bathroom.
Labeling and Certifications
"It's on all of us to make a difference and create a more sustainable future where plastics are truly recycled, reused and out of nature," Zipperian says. "Making this package change to Eastman Renew materials reduces the brand's dependence on virgin plastic and helps us bring the world one step closer to making plastic a circular resource. By including the standard How2Recycle® label, Herbal Essences is encouraging people to recycle their empty bottles.
"Even separate from the incorporation of the Eastman Renew resin, Herbal Essences has added the How2Recycle label to the majority of bottles to clarify recycling instructions and encourage recycling packaging waste," she says. "In fact, How2Recycle labels were added to packaging across all the P&G Beauty North America Hair Care brands including Pantene, Head & Shoulders, Hair Food, and Herbal Essences. Plastic is an extremely valuable material, it is our goal to enable responsible usage of the material and create a circular path for plastic. Recycling rates are low, especially in the bathroom, and we want to simplify instructions and encourage reuse and recycling. The majority of Herbal Essences shampoo and conditioner bottles are labeled 'widely recyclable' and made with either chemical [molecularly recycled] or mechanical PCR resin."
As previously mentioned, these advanced recycling technologies complement traditional recycling, expanding the types and amounts of plastics that can be recycled. This gives materials an extended useful life and diverts plastic waste from landfills or the environment.
"We are excited to see our partnership with Procter & Gamble reach consumers' hands with the launch of these Herbal Essences packages," Layton concludes. "We are delivering solutions to the plastic waste problem right now and look forward to the continued collaboration with P&G as a leading partner." - PW
Companies in this article