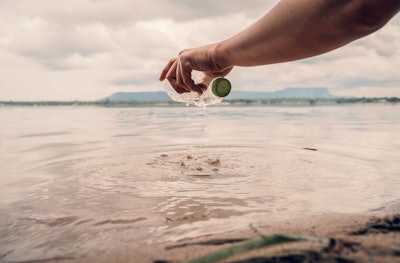 Getty
When Jack McAneny, VP Global Sustainability at P&G, spoke with Vanessa O'Connell, Global Industry Editor at Reuters last week during the Reuters NEXT conference, O'Connell asked McAneny about P&G's 2030 plastic pledge, and how realistic the company's internal pledge is for attainability.
"We know that there's a handful of countries that are disproportionately the source of some of this plastic that's leaking into the ocean," said McAneny. "One of the key things that we're working on is how can we be a catalyst in working with others to help stimulate the development of waste management infrastructure in some of these key geographies?"
McAneny said that P&G is part of initiatives such as Circulate Capital and the Alliance to End Plastic Waste - a group of over 50 companies that committed to invest $1.5 billion over five years "into solutions that can help stop the flow of plastic into the environment and drive greater circularity in our packaging. By doing that, we're trying to demonstrate specific solutions at scale, and really prove that different models and solutions can work, and then enable those to be able to be scaled. In some ways we're de-risking future investment by proving that these solutions can work."
The 2030 goal, he added, "is a challenge because this is not something any single one company can solve. This is going to require partnership up and down the value chain. It's going to require engagement with governments. It's going to require engagement with civil society and development and finance institutions. We see it as a stepwise building block process, but that's the strategy that we've implemented to try to make an impacted scale."
The company has created an 'ESG portal' in an effort to promote transparency, with a 'packaging' tab that shares information on different programs and goals – both the good and the challenges.
Alternatives to Plastic
When asked about promising new materials for sustainable packaging, McAneny said there is a company goal to reduce the use of virgin petroleum plastic use in plastic packaging by 50%, in part by increasing the use of recycled content, including "new and innovative advanced recycling materials." Plastic alternatives such as paper-based packaging is another example, and McAneny said that Gillette and Venus razors have rolled out paper-based packaging, as have Secret and Old Spice antiperspirant and deodorant brands.
---
---
Encouraging consumers to transition to more efficient product forms is another way the company is trying to meet its goals. Tide Pods and Gain Flings, which are unit dose laundry products, are "an incredibly efficient way to get more consumer uses inside of a single package, so you actually reduce the amount of packaging per consumer use," said McAneny.
He also added that there just isn't enough recycled plastic available for the industry to meet its sustainability goals, and that "increasing the supply of recycled plastic is a challenge, and one that we're working on." An interesting use-case is P&G's partnership with the "Holy Grail" project, led by the European Brands Association AIM, whereby digital watermarks on the packaging is invisible to the consumer, but "contains significant data about the package itself, which allows the packaging to then be sorted at a very granular level and really improves the quality of materials, and the variety of materials, that can be recovered. We've now got a coalition of over 130 companies in Europe that at the start of next calendar year, are going to be testing this at an industrial scale. It has the potential to be a game changer in terms of really improving the quality and the quantity of materials that can be collected. The intent is to pilot this in Europe first and upon successful execution of that pilot, look to reapply it."
Another way to increase supply, said McAneny, is to look at processing technology and the role that innovation can play to enable a broader spectrum of material. He cited an example of recovered polypropylene that can be returned to a "near-virgin state." Developed by a P&G scientist, the technology has been licensed and is being commercialized by PureCycle Technologies. "That has the potential to unlock significant volumes of polypropylene and open up a wide range of uses that just haven't been feasible before in the past…Innovation is going to be critical to freeing up greater supplies, as is ensuring that as we design our own products, we're driving towards greater recyclability so that they can be coming back into the system as well."
Reuse and Refill
P&G was a founding partner with Teracycle's Loop and is currently looking at other refill options. McAneny said that Pantene, Herbal Essence, and Head & Shoulders hair care brands in Europe introduced refillable aluminum shampoo bottles with recyclable plastic pouches. The company has also piloted and tested refills with some of their cleaning product brands, as well as some skincare brands.
McAneny added, "The challenge that we face is that this is a huge consumer-habit change. What we have to learn are a number of items around how many cycles does a reusable container need to go through before it turns out to be a net environmental benefit? For product categories like ours that take a little bit longer to consume in the house, how many times is a consumer going to follow through and execute on a reusable or refill before they make a decision to just get rid of the original container? We have to develop a model that we know will work for the consumer before we can really begin to scale that. I'd say today, we are very much in large scale pilots, large scale learning, but we have to bring the consumer with us and if we get too far ahead, that's where we could run into trouble."
---
---
Want to learn more about how to get started with sustainable packaging? Download FREE PDF below:

Companies in this article