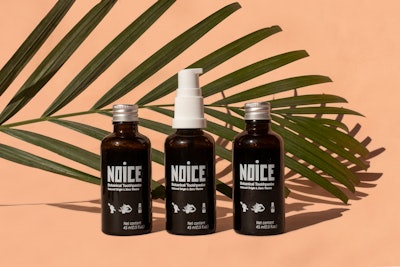 Who says toothpaste has to come in a tube? Certainly not Noice Care. In developing its "Good for You & the Planet" toothpaste product, startup Noice looked at traditional toothpaste tube packaging, as well as some out-of-the-tube options, but determined that glass was the most sustainable, functional, and aesthetically pleasing package for its new all-natural oral care product.
As CEO Morgane Soret explains, Noice was created to address the challenges she and co-founder Clement Hochart faced while on separate personal journeys. Hochart was attempting to live a more organic lifestyle with more natural personal care products; Soret was working toward a zero-waste lifestyle, removing single-use plastics from her home. Neither one had success when it came to finding a natural toothpaste product that was effective, fresh, and good tasting and at the same time reduced plastic packaging.

"Together with our two other co-founders, Maximilien [Masson] and Valerian [Fauvel], we decided to create a toothpaste that would be healthy, would clean and preserve teeth effectively, and would not create waste—a toothpaste that is good for people and good for the planet."
Noice was founded in 2019 in Singapore—a part of the world that is significantly impacted by marine pollution from plastic packaging. After a successful Kickstarter crowdfunding campaign in 2020, Noice began production of its Anti-Plaque Charcoal Toothpaste in Thailand, releasing it in January 2021 in the U.S. and the U.K.
---
---
Says Soret, it took Noice two years to develop a formula that combined all-natural ingredients and a great taste. While the resulting toothpaste is a gel, it is more liquid and foams less than conventional toothpaste products. It's also black in color, due to the charcoal added to the formulation for stain removal. Additional ingredients include licorice root powder, which fights the bacteria that causes tooth decay, tea tree and eucalyptus, chosen for their antibacterial properties, chamomile, which provides calming properties, and peppermint and menthol, to freshen breath.
When Noice began looking at packaging formats, the traditional multilayer plastic-and-aluminum tube used for conventional toothpaste was an absolute non-starter, given its non-recyclability. Says Soret, according to information supplied by Colgate, approximately 1.5 billion plastic toothpaste tubes end up in landfill globally each year. "And it takes up to 500 years for a plastic tube to break down," she adds. "When it eventually breaks down, it is into microplastics that we can't see but that are here, everywhere, polluting our planet and oceans."
Before it settled on glass, Noice considered several other packaging materials. It looked at recycled and recyclable plastic, but felt the recycling rates in the U.S. and U.K. for plastics were too low. It also looked at paper-based packaging, which Soret says in the end was not ideal, as there was the potential for leakage.
"We chose glass because of its higher recycling rate and the fact that if it's not recycled, at the end of its life, it goes back to being sand," explains Soret. "Functionally, it is a robust material that is conducive to reuse, and it can stand by itself, which gives it a nice appearance and makes it easier to display on the retail shelf. And, aesthetically speaking, it is heavier, so it's handy to use and sits nicely on a bathroom counter."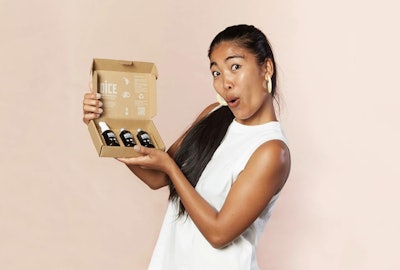 The 1.5-oz amber glass bottle—the color was chosen to protect the formula inside—is sourced from China and is topped by either a reusable, white polyethylene dispensing pump, from a Thai supplier, or a metal screw top. Soret shares that Noice is constantly evaluating its carbon footprint, so it's looking for suppliers for its glass bottles that are closer to its U.S. and U.K. markets as well as options for its dispenser, including a monomaterial pump that does not use a metal spring. "Even if our dispenser is meant to be used endlessly, this option could make it easier to recycle the closure if necessary," she says. Another option it's considering for its dispensing pump is one made from sugarcane-based PE.
Currently, the primary distribution channel for Noice is direct-to-consumer, either through the company's website or via the Loop circular shopping platform. Consumers purchasing Noice through the company can buy the product either as a one-time order or on a subscription basis. As a subscription, consumers first receive a trial bottle, fitted with the dispensing cap, for $4.95. Six weeks later, they receive their first refill pack, for $19.80, which contains three bottles of Noice topped by metal screw-cap closures. To dispense the product, consumers remove the screw cap and add the reusable dispensing pump. From then on, they receive a refill pack of three bottles every four months.
Bottles are packaged in a shipper made from 100% FSC-certified paperboard, optimized with just the right amount of material to keep the bottles safe from breakage.
With its participation in the Loop reusable packaging shopping platform, Noice offers consumers a way to reuse the toothpaste bottle as well. "Loop is a partner of choice aligned with our ethos of making sustainable choices easy," says Soret. "Noice was the first toothpaste to be sold on Loop, and after the joining the U.K. program, we also joined Loop in the U.S. and Canada. I have a strong admiration for Loop and its mission of developing reusable containers with the giants of our world and making it easy for consumers to get their favorite products in a 100% reuse model.
---
---
"From our partnership with Loop, we learned that the pure players, the retailers, were ready to implement circular models, and that consumers are ready too. More than that, the demand is here and again follows one of our key values, which is accessibility—easy to access and easy for consumers to implement."
Noice is also distributed at retail, in 10 locations worldwide, mainly in smaller refill and zero-waste shops. The company's aim is to expand its reuse model so that eventually every bottle is washed, refilled, and returned to consumers. To this end, it is running pilots with its retail partners to implement the collection of the bottles.
Noice's plans for the future include the introduction of more oral care products, such as mouthwash and a toothpaste product formulated for kids.
---
PACK EXPO Las Vegas and Healthcare Packaging EXPO (Sept. 27-29, Las Vegas Convention Center) will reunite the packaging and processing community. With over 1400 exhibitors, no other event in 2021 will bring together a more comprehensive gathering of suppliers offering new products, technologies, and solutions. Attendee registration is now open.