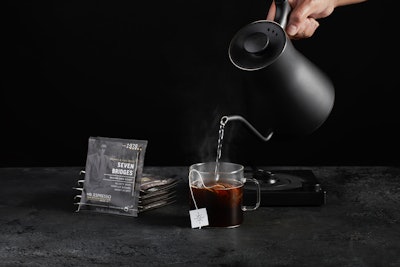 Mr. Espresso is an Oakland, Calif.-based, family-owned and operated wholesaler of coffee products. It is the only major U.S. coffee company to exclusively use traditional oak wood-roasting methods for its beans, a process brought to America from Salerno, Italy, by its founder and family patriarch, Carlo Di Ruocco. With its customers comprising businesses such as offices, hotels, restaurants, and cafes, Mr. Espresso had long found it a challenge to break into the single-serve coffee market—especially given the available options for single-cup brewing.
"K-Cup and Nespresso capsule products are very easy and very convenient, but as far as sustainability and the quality of coffee they produce, that's always been questionable," says Luigi Di Ruocco, co-owner and Vice President of Mr. Espresso. "As a local, family-owned, quality-oriented roaster with a mind for sustainable methods, neither of those options fell in line with our values."
---
---
But in 2019, a startup out of Santa Cruz, Calif., called Steeped Coffee Company, launched a new product that allows coffee lovers to prepare a single serving of coffee using a tea bag-style, full-immersion filter packed with 14.2 g of freshly ground coffee in just a couple of minutes. Not only is the steeping bag a more environmentally friendly option than single-use, non-recyclable capsules—10 billion of which end up in landfills each year, according to Steeped—but the filter is made from renewable, biodegradable, non-GMO materials and is ultrasonically sealed, eliminating the need for glue or staples.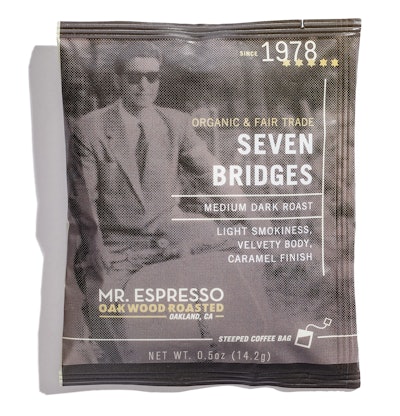 To keep the precision-ground coffee fresh, the filter bag is packaged in a nitrogen-flushed film sachet. As Steeped Coffee founder and CEO Josh Wilbur explained upon the launch of the product, "Premium coffee roasters have shied away from offering their specialty beans in single-serve packaging because it's been nearly impossible to keep ground coffee fresh, which quickly ruins the taste. With our Nitro Sealed bags, oxygen is replaced with nitrogen, so the coffee stays fresh as if it was ground moments ago."
The outer film pack was designed with sustainability in mind as well. The multilayer structure includes a barrier layer made from renewable, plant-based materials; a water-based adhesive; and a bio-based sealant layer. (Details on the specific materials and suppliers were not forthcoming from Steeped.) The entire package is industrially compostable per ASTM D6400 and ASTM D6868 standards.
Rounding out what Steeped has branded its Guilt-Free Packaging™ system is the retail carton, which is made from 100% recycled materials and is fully recyclable.
Steeped Coffee launched with its own line five coffee roasts, but also made the proprietary Steeped Brewing Method available to licensed partners. Given the packaging system's quality and sustainability credentials, Mr. Espresso reached out to Steeped in 2019 to have the company conduct trials with its coffee in the filter bag. In fall 2020, Mr. Espresso unveiled its popular Fair Trade/Organic Seven Bridges Blend, which is described in the cupping notes as having a "velvety body," "complex sugars," and "sweet acidity," in the single-serve bags.
Di Ruocco notes that the portability of the packaging and the ease of coffee preparation with the full-immersion filter—just hot water is required—make it ideal for environments such as offices, hotels, and meetings. "People love it," he shares. "I think they're happy they can get a really good cup of coffee with so much convenience. While it may never replace the fully brewed cup of coffee someone makes for themselves at home when they have all the time in the world, it's definitely a very convenient way to make a great cup of coffee on the run."
---
---
Mr. Espresso's Seven Bridges medium-dark roast coffee in the Steeped Coffee bag is available for purchase on the company's website for $14 for an eight-count carton.