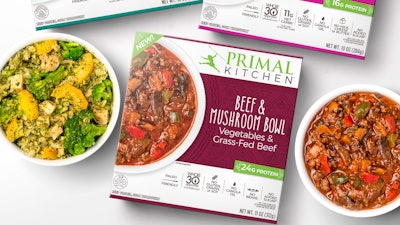 Primal Kitchen® was founded in 2015 by Mark Sisson, an endurance athlete, New York Times best-selling author, and early advocate of ancestral health practices via his top health blog MarksDailyApple.com. Ancestral health is a blanket term often associated with the paleo or primal diets, and though there are a few different versions in the space like today's popular ketogenic diet, they tend to revolve around eliminating heavily processed foods—dairy, gluten and grains in the form of bread, for instance—from the diet. From an early nutritional supplement platform and book called The Primal Blueprint, Primal Kitchen started as an e-commerce play for paleo condiments, launching a mayonnaise and salad dressing line made with avocado oil. During the early days, the brand built an extensive online distribution network, through both online health and wellness retailer Thrive market and its own direct-to-consumer (D2C) business.
"Our founder Mark Sisson really bucked the system, first by educating the world about a new way to eat via the ancestral health movement, and then creating products in CPG. The first, the mayonnaise, is made with avocado oil and other real, simple ingredients like organic, cage-free eggs," says Ana Goettsch, VP of Marketing, Primal Kitchen. "The resulting high-quality, premium product was packaged in glass, and was launched online only, not typical of other brands path to market, especially in glass Then, once we got into Whole Foods and a variety of other bricks-and-mortar natural products retailers, the brand exploded from there. We now have over 72 SKUs in nine different categories and can be found in almost every retailer from Natural Grocers, Sprouts, and Wegmen's to Costco and Target."
Branching out into new pack formats
In 2020, Primal Kitchen launched a line of three IQF frozen bowls and skillets—Chicken Panang Curry, Chicken Pesto Bowl, and Beef & Mushroom Bowl—each adhering to the now-mainstream (comparatively, at least) tenets of ancestral health. But this move also brought the company into contact with packaging formats it hadn't previously used.
"With this lifestyle and growing consumer trends, there is an emphasis around sustainability in protein sourcing like grass-fed beef, cage-free eggs, organic ingredients where applicable, and those types of quality identifiers just resonate better when you continue that message out through the packaging that you're using," Goettsch says.
Also, because of Primal Kitchen's unique brand position within the natural products space—which is of a piece with other loosely related sets of ideals espousing health, wellness, and stewardship of the planet—a typical Primal Kitchen customer was likely to be seeking to eliminate single-use plastics. The average, off-the-shelf microwave-ready, single-use plastic pack used in so many major brand frozen meal packs wasn't likely to fly with Primal Kitchens' customer base.
Luckily, in January of 2019, Primal Kitchen's depth of resources to solve this problem had significantly deepened, and its knowledge and capability related to packaging received a big boost. That's when KraftHeinz acquired the brand and made available its wealth of packaging resources and know-how.
"We wanted consumers to continue to have an elevated experience with a frozen meal that might come at a premium from other frozen meals but gives the benefits of not using single-serve plastic," Goettsch says.
Molded sugar cane fiber brand is born
Meanwhile, just as Primal Kitchen was getting acquired by KraftHeinz and starting R&D on the frozen bowls line, packaging materials provider and converter Sonoco had identified a new market opportunity in agricultural fiber and was investing in R&D in this new packaging tech. Looking across the different markets the company served, Sonoco experts saw a niche where it could use its competencies around the performance of dual-ovenable (stands up to oven or microwave) packaging developed from fiber.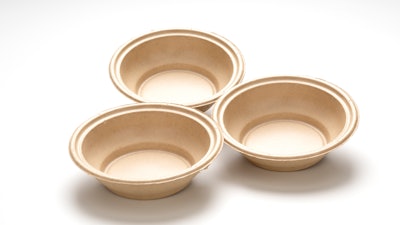 Now, molded fiber isn't particularly new to the packaging materials market. But an interesting confluence of events would eventually give food brands like Primal Kitchen fresh eyes with which to look at molded fiber trays.
A business venture launched between Sonoco Products Company and Tellus Products, LLC, combining core competencies with packaging design, materials, science, and responsible sugarcane farming and milling practices, led to the introduction of Natrellis®, a dual-ovenable package made from sugarcane fiber grown in the USA. Tellus is jointly owned by Florida Crystals Corporation, Sugar Cane Growers Cooperative of Florida, and American Sugar Refining, Inc., and is part of ASR Group. Sonoco is packaging provider that specializes in all types of packaging including rigid paperboard, flexible, and rigid plastic for the food industry.
The Natrellis portfolio consists of microwaveable and conventional oven-compatible packaging designed by engineers with expertise in cook-in performance packaging, keeping the consumer experience top-of-mind.
Tellus upcycles sugarcane fiber from the sugar milling process and converts it to compostable packaging for foodservice products such as plates, bowls, and take-out containers. Natrellis includes a performance application layer to these formed packages to create a dual-ovenable structure well-suited for applications like Primal Kitchen's new line of meals.
Natrellis products feature a highly engineered surface that delivers strong moisture, oil, and grease resistance during both cooking and consuming. This helps maintain the package strength during all phases of use, preventing loss of food moisture and eliminating the concern of wicking through the package to surfaces beneath. Within the portfolio there is a family of films built for strong heat-seals around the perimeter of the tray lip. This prevents leakage prior to freezing and maintains adhesion during cooking (if desired), while remaining easy to peel for the consumer. The sealants are formulated for both hot roller and platen technologies.
Tellus' manufacturing facility, which produces Natrellis® products, is located adjacent to the Sugar Cane Growers Cooperative's sugar mill in Belle Glade, Fla. This is notable since it limits transportation, and associated CO2 emissions, of the raw material, while being sourced in the U.S.
Beta testing and match making

As the Natrellis technology developed, it became evident that scaling up meant finding a willing a brand with a project ready for beta testing. When Sonoco floated the broad strokes—a dual-ovenable fiber tray that was grown, processed, and manufactured entirely in the U.S.— to its customers, early interest was quite high. Other Natrellis molded fiber features not yet mentioned include its PFSA-free status, and ability to work with multiple supply chains, including frozen and chilled prepared foods. There was no shortage of potential projects with the brands Sonoco serves.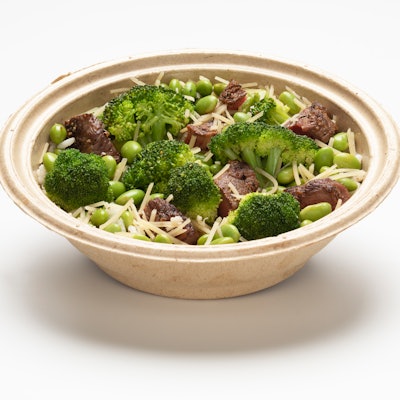 But it wasn't so simple as choosing any old food brand from a hat filled with willing test partners. The entire Natrellis project needed to follow a very specific order of operations around scaling, ongoing How2Recycle certification efforts, and the physical locations of current and future manufacturing facilities. That meant that any brand signing on to this project would have to start without a recycling certification—all part of the scaling plan, and the company is working toward that recycling certification—and grow and scale with the brand. This meant that the partnership might encounter delays and other factors that might be out of the brand's control. A good partner had to be willing to endure these typical setbacks.
Enter Primal Kitchen. It had at its disposal much of the packaging expertise and many of the resources that a big brand owner like KraftHeinz brought the table, though the budget remained the same initially. Still, the brand continues to operate autonomously with its original leadership still intact, and now has partners to aid in sourcing packaging like the sugar cane fiber bowl. It had a long way to grow still, so it was ready for a scaling journey. And a unique, health-and-wellness-minded customer base with an aversion to single-use plastics meant that the molded fiber trays were likely to resonate with their first consumers. This dual personality made Primal Kitchen an ideal fit for the project.
"Their brand just matched what we were doing. It was a pretty simple decision to make. We were looking for a company who understood our message and the road we had to take. We were very strategic and purposeful about what we did with the Natrellis brand." says Becky Skipper, Marketing Manager, RPC North America, Sonoco. "All the fiber, all manufacturing, all films produced, even the simplified bio-based performance layer coatings had to be made in the U.S. And these were variables that we had to address in a certain order. We wanted to ensure that the brand that we went out to market with was just as purposeful about who they were, as we were about who Natrellis was.
"When Primal Kitchen came to us and they talked to us about what they wanted to do, we told them we had not picked a development partner yet, but they sure seemed like the right fit," Skipper adds. "If they were willing to take up this challenge with us, with all of our cards on the table and a detailed plan that we'd follow to the letter, then we were ready to partner. It has been a fantastic working relationship. They're wonderful. The volumes also were exactly where we wanted to be in startup and their brand messaging was where we wanted to be."
Research and development
Early testing with the dual-ovenable fiber bowls was performed by Michael Hartley, Head of Innovation at Primal Kitchen, and he put the system through its paces.
"With any bowl, part of the quality assurance procedure is ensuring that liquids don't seep or leak through the packaging," he says. "Many plastic alternatives struggle to handle liquid. Whether runny or viscous, liquids can pool at the bottom of the bowl and cause it to degrade over time. This innovation fiber-based bowl is able to hold liquids and deliver a consistent consumer experience."
Luckily, the proof was in the pudding (or curry?), and the Natrellis fiber bowl system didn't present any unexpected or novel challenges when compared to other molded fiber bowls.
"But every material—PET, fiber-based bowls, HDPE, etc.—has unique properties and comes with its own set of challenges," Hartley says. "Just like with any new product, we had to ensure it would run correctly through our manufacturing line and withstand distribution across the country."
The packaging line uses a cold filling process, and as the bowls are run down the line, various ingredients are deposited into the bowl following a proprietary process. Once all ingredients are inside the bowl, the bowls are sealed, placed in a carton, case packed, and then frozen for shipment.
"The film is a parchment paper that is heat-sealed to the bowl. We chose a parchment paper versus a traditional plastic film because we wanted to elevate the consumer experience and differentiate from the competition," Hartley says. "The parchment paper has printed Primal Kitchen graphics. Just like all Primal Kitchen products, the outer carton contains the date code and lot information."
The cartons are case-packed into Display-Ready Case (DRC) at five cartons per case. Retailers receive the case, remove the top opening, and place the entire case in the freezer shelf.
"Every new technology presents new challenges," Hartley concludes. "What makes this fiber-based bowl so special is the fact that it can withstand our normal manufacturing conditions. The adjustments we had to make to our processes are of the same nature that we would make for any new bowl, regardless of the material."
Channel balancing
With a strong partnership with Thrive Market, Primal Kitchen launched frozen bowls and skillets online in July and have continued to expand distribution in brick-and-mortar retail partners like Whole Foods Market, Natural Independent Grocers and Wegman's.
"We are expanding distribution regularly and excited to bring frozen meals to different retailers and new consumers all over the country."
She adds that one of the things that Primal Kitchen has done quite well over the past five years has been in innovating in categories that might have needed an ingredient clean-up, modification, or in the case of the brand-new frozen bowls and skillets, invention.
"And packaging is one way we do that," Goettsch concludes. "This frozen launch with an all-new package format [the dual-ovenable fiber bowl] really exemplified our leading innovation, and I think that's exciting. I think it's fun to bring it full circle, from every quality ingredient we're using, to the packaging, and that the value of what we're doing continues to resonate with consumers." -PW
Companies in this article