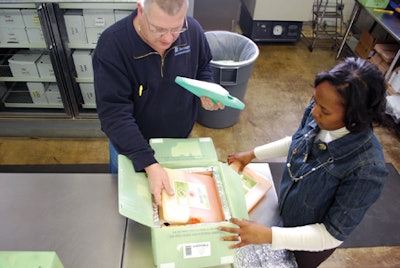 The rapid spread of the H1N1 influenza virus led the World Health Organization last June to declare that H1N1 was a global pandemic. The Chicago Dept. of Public Health's (CDPH) Preparedness and Emergency Response Program acted swiftly to protect the public, particularly those people in the city who were deemed most susceptible to H1N1, and those unable to receive the vaccine via private healthcare providers.
A key step taken by the CDPH was to purchase 100 Greenbox™ thermal management system shippers from Entropy Solutions. The shippers are used at CDPH's central warehouse, which receives glass vials of the liquid H1N1 vaccine. The federal government purchased vaccines from different drug manufacturers, then sent them to CDPH through third-party shippers.
Each Greenbox contains 360 vials, with each vial containing 10 individual patient doses. CDPH shipped the treatment to more than 100 clinics within Chicago, where nurses or physicians drew the liquid into a needle from the glass vial. Between last October and January of this year, more than 100,000 citizens were inoculated against the influenza virus.
"We first heard about the Greenbox when we began planning for our response to what we thought would be a fall wave of the H1N1 outbreak," recalls Suzet McKinney, DrPH, deputy commissioner of the Office of Public Health Preparedness and Emergency Response for CDPH.
"We knew that we would have a great deal of responsibility with disseminating the H1N1 vaccine across the city. We also knew that in implementing a mass-vaccination campaign, we would likely be set up in facilities that did not have or could not provide large-scale refrigeration capacity," she adds.
"We have to maintain the integrity of the vaccine with regard to temperatures, keeping them in the two-to-eight-degree Celsius range. We also knew that we would be accountable not just for vaccines, but also for a number of other resources that would be coming to us from the federal government. We wanted to ensure the highest level of accountability, so we sought additional expertise to determine how to implement maximum capability in our warehouse operations. It was in doing that work, trying to figure out how we would manage all of those different things that normally we wouldn't even be involved in, such as temperature maintenance and warehousing and things of that sort that became necessary so that we could do our basic public health work. We worked with a warehouse contractor to help us get all of our processes in place and they introduced us to the Greenbox technology."
McKinney says CDPH previously used expanded polystyrene (EPS) containers for temperature-sensitive products. Used within an outer corrugated shipping case, the EPS containers held gel packs or dry ice. "The previous containers we used were prone to breaking and cracking from human handling. They were just not quite sturdy enough. The Greenbox is much more durable and dependable."
Sustainability, too
CDPH ordered 100 of the Greenbox containers, which McKinney points out "are completely reusable. They really contribute and support the effort that Mayor Richard M. Daley has led over the years to make our city more environmentally responsible," she says. "There is no waste or garbage resulting from these containers, and we continue to use them." Entropy Solutions sends set-up Greenbox containers to CDPH. The temperature-controlled shipper can keep contents at a consistent temperature for more than five days. Designed for the food, pharmaceutical and blood industries, the Greenbox system is constructed of a durable plastic outer shell; Thermal-Lok™ insulation panels, which protect temperature-sensitive goods from external weather conditions; and PureTemp™ renewable phase-change material, which acts as an "internal thermostat" by absorbing and releasing heat, which keeps the payload at a consistent temperature for the duration of its shipment.
Sensible economics
Asked about the economics of the Greenbox versus the previous EPS-based containers, McKinney notes, "Actually the Greenbox itself is not a terribly expensive container. I'd say each cost about $100, but as far as we are concerned there is a significant cost savings.
"We have a responsibility to be accountable and be good stewards of the federal funding we receive. So, previous EPS containers or even some of the harder plastic containers that we used in the past are and have been prone to breaking and cracking due to human handling. So we found ourselves in situations where we constantly have to replace those containers. The Greenbox is extremely sturdy."
McKinney says that CDPH staff at the Chicagoland locations have been trained how to transport the Greenbox back to the central warehouse once the H1N1 doses have been administered.
And while McKinney can't yet estimate how many round trips the Greenbox containers will make, she points out, "We started in October and we are still using them now. We have had zero instances of having to replace any of them. The Greenbox containers work for the H1N1 vaccine, and it will work for just about anything else with temperature sensitivity. So we plan on keeping these around long after the H1N1 response has concluded. I would also be open to sharing our experience with other health organizations.
"In Chicago, through our public health department efforts, we have provided about 100,000 doses using Greenbox containers. We have also provided vaccine to private medical providers and hospitals in the city." Although those did not use the Greenbox, those providers delivered another 402,000 doses, as of January 31, 2010. "Greenbox offered us a solution that's worked really well for our public health department vaccination efforts," she says.
Companies in this article