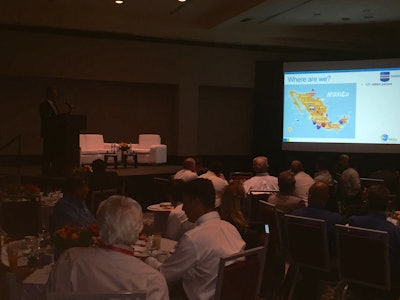 After an unprecedented opening day, the second day of a potentially record-breaking EXPO PACK Guadalajara began with a standing-room only conference session outlining the current stability of the Mexican market and presented a series of strategies for success.
Luis Doménech M., managing director, MILA, described the Western Mexican market as ripe for investment with multinational consumer packaged goods companies, an exploding beverage sector and an increasing desire for automation driving growth.
As a whole Mexico imported $696 million in packaging machinery in 2016, a record high for the second consecutive year, Doménech said, with Jalisco attracting $2.48 billion or nearly 9 percent of the total national Foreign Direct Investment (FDI). Recognized as the home of Tequila and with beer production at an all -time high, Mexican companies from the food and beverage industry continue to increase investments in the region. Of the 50 companies interviewed for the 2017 Study on the Western Packaging Market, from PMMI, The Association for Packaging and Processing Technology, projected investments in packaging machinery in the 2017-2018 period are worth between US$149.9 and 182.4 million.
Looking deeper at beer, in 2016 the beer industry alone accounted for 20 percent of all packaging machinery imports with the Compañía Cervecera de Coahuila (Constellation Brands) brewery repeating as the single largest importer at US$ 74.5 million. Heineken's Cervecería Cuauhtemoc Moctezuma ranked second in packaging machinery imports with US$ 31.2 million.
The keys to entering this sector as well as other burgeoning markets in Western Mexico were summed up by Doménech, starting with what he detailed as a "popular myth about the North American Free Trade Agreement." According to research from MILA, more jobs in the U.S. have gone away because of automation and robotics, rather than factory movement to Mexico.
"There is no NAFTA advantage, and NAFTA revision can bring additional taxes to American companies," he explained adding that the current uncertainty over NAFTA's future is causing important international problems. The top four issues, in no particular order:
Slower FDI inflows expected, especially from European companies targeting the NAFTA market.
Mexican exporting companies are concentrating more on diversifying their exports.
Nationalistic sentiment continues to increase with several "buy Mexican" and "Don't buy American" initiatives in social media.
Some Mexican companies are placing investments on hold due to NAFTA revision.
Politics aside, his advice for increasing a Mexican presence lie in the knowledge that service, flexibility and reliability are significantly more important than price. In fact, local service, equipment service packages and local spare parts remain key competitive advantages. Credit options and payments schedules—preferably in local currencies—can be strong decision-making points with leasing a very attractive option for customers.
Finally, Doménech noted that relationships and negotiations are welcomed in the Mexican market. "Take it or leave it," prices for machinery are often non-starters.
EXPO PACK Guadalajara continues through June 14. For more information visit www.expopack.com.
Companies in this article