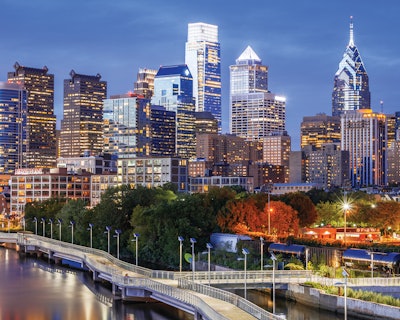 PACK EXPO East 2017 runs Feb. 27 to March 1 at the Pennsylvania Convention Center in Philadelphia. The three-day event features 400 exhibiting companies and spans more than 100,000 net square feet, providing the opportunity for attendees to exchange ideas with 7,000 peers. According to PMMI, The Association for Packaging and Processing Technologies, the sophomore edition of PACK EXPO East will surpass the impressive results of 2015's inaugural event.
"The industry identifies the PACK EXPO brand with quality events, and the response to our first PACK EXPO East proved that," said Jim Pittas, Senior Vice President, PMMI. "The intimacy of a regional event allowed attendees and exhibitors to spend quality time understanding each other's operations and the challenges both sides of the table face."
Attending PACK EXPO East is the most efficient way to engage suppliers of packaging technologies in the industry's vibrant East Coast. The show brings large multinational exhibitors like Bosch Packaging and Siemens, as well as some of the fastest growing regional processing and packaging companies who target specific niche markets. Its location in Philadelphia places PACK EXPO East within 200 miles of one-third of U.S. Consumer Packaged Goods companies (CPGs), including arguably the country's largest concentration of life science and pharmaceutical industries.
For those in the healthcare sector, the Healthcare Packaging and Processing Conference will be of particular interest with keynotes, sessions, and technology workshops touching every facet of the industry. The robust conference program will focus on critical issues affecting the industry such as serialization, machinery automation, logistics security, government regulations, innovations in biotech and pharmaceutical packaging, sustainability, and more. With regulation deadlines looming and supply chain challenges persisting, this two-day conference for life science processing and packaging professionals comes right on time, especially since the Philadelphia area is such a hub for the life science industries.
"Due to its ever-changing regulations and diverse technologies, pharma is one vertical market where attendees are always clamoring for as much new information as possible," says Pittas. "Pharma also supplies early iterations of innovation that we later see in food, beverage, branding, etc., so fostering this kind of environment for cross-pollinating ideas delivers huge value to every PACK EXPO East attendee." See page 72 for more details on the conference.
Sure to be talked about at length is the problem of counterfeiting. Globalization is creating an increasingly complex, continuously growing supply chain. With more suppliers and more products coming from different countries, it is critical to identify, capture and share accurate product information. In this environment, counterfeiting has become a growing challenge.
According to the 2016 Brand Protection and Product Traceability Market Research report from PMMI, counterfeiting is predicted to increase three percent per year worldwide. This rise will lead to increased growth in the anti-counterfeiting market over the next five years with CAGRs ranging from 12.8 to 16 percent. The growth of the global anti-counterfeiting market will outpace the overall combined market segment growth of food, beverage and pharmaceutical industries by roughly two to three times in the next five years.
"As this trend continues to increase on a global level, it is of paramount importance that all involved in the packaging and processing industry make continued efforts to maintain tracking control in order to prevent counterfeiting and aid in product recall," says Paula Feldman, director, Business Intelligence, PMMI. "With North America alone accounting for fifty percent of the total growth of the global anti-counterfeit food packaging market in 2014, it is increasingly important that we as an industry continue to take the necessary action to protect our brands, as well as those around the globe."
PMMI compiled the 2016 Brand Protection and Product Traceability Market Research report from the insights of 75 brand manufacturers, industry experts and technology suppliers who shared their experiences complying with traceability regulations in the food, beverage and pharmaceutical industries. To download PMMI's full 2016 Brand Protection and Product Traceability report visit PMMI.org/research.
Brand owners looking for anti-counterfeiting solutions will find them among the 400 exhibitors at PACK EXPO East 2017. The show brings together suppliers of packaging innovations for pharmaceutical/medical device, food, beverage, cosmetic/personal care, chemical/household and other packaged goods, serving companies of all sizes. PACK EXPO East promises to be another top-tier event.
In addition to the conference program, PACK EXPO East will feature an Innovation Stage program showcasing many of the latest packaging advances. These free 30-minute sessions on the show floor provide a quick and convenient way to learn about key topics.
Registration for PACK EXPO East can be done online at packexpoeast.com.
Companies in this article