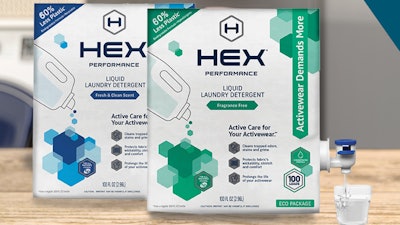 Designed to reduce waste, minimize the risk of damage and improve customer experience, the new bag-in-box solution developed by Liquibox contains 60% less plastic than traditional 100-oz rigid detergent bottles. The HEX Eco Bag-in-Box Package drastically cuts the carbon footprint by offering 58% reduction in fossil fuel use, 47% reduction in GHG emissions, and 25% reduction in water use. (source: EcoImpact LCA)
"We've been listening to our customers, and they've told us that they're very interested in more eco-friendly packaging. Our newest innovation is the result of that commitment. We're excited that in addition to the reduction in plastic and carbon footprint, our new eco-friendly package is also very easy and reliable to ship through our e-commerce channels," says Kristen Contessa, Director of Operations at HEX Performance.
"Both HEX and Liquibox are on a mission to create a more sustainable future, and innovation comes through partnership. We were excited to work with HEX from development to commercialization on their new three-liter liquid laundry detergent bag-in-box flexible packaging, which improves environmental impacts and wows e-commerce and retail consumers," says Kristin Yelverton, Market Segment and Business Development Manager at Liquibox.
Bag-in-box is one of the fastest-growing segments in the liquid packaging market, according to data analytics consultant GlobalData. The new HEX Eco Bag-in-Box Package is available to purchase online from hexperformance.com, Target, and Amazon. -PW
Companies in this article