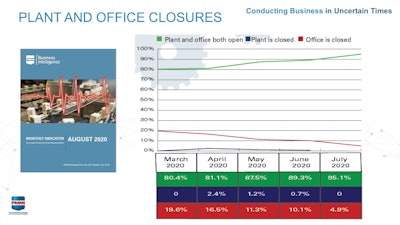 PMMI, The Association for Packaging and Processing Technologies, held a panel earlier this Fall on the new OpX work product, the virtual Factory Acceptance Test (vFAT) where they released the following information.
Among PMMI membership 95% of members have both plants and offices open, none report their plants closed, and 4.9% of members report their offices are still closed, while they work virtually from home. These numbers prove that gradually the industry is returning to normal production, or rather the new normal.
Statistics show that quotations in the food and beverage, and farmer space have been increasing incessantly and are now at an index level of 61-62%. This indicates good quality in terms of quotations for the members. Orders are following suit. However, the numbers are not yet as high in the industrial space.
Unfortunately, most PMMI members claim supply chain issues affecting their operations. Supply chain disruptions are not increasing significantly, but they are not improving either. Expectations are that it will remain this way for the next few months.
Denial of access for service technicians and sales staffing into CPG plants is also an ongoing issue. Access has gone from 86% in April to a current 55%. Though this latest stat is a very significant, smaller percent, PMMI confirms things are improving, both on the technical and sales side.
---
See it Live at PACK EXPO Connects Nov. 9-13: Case Study: Beverage Industry solution that minimizes downtime from breakage and improves transfer of unstable mixed loads, by Orion Packaging Systems. Preview the Showroom Here.
---
Companies in this article