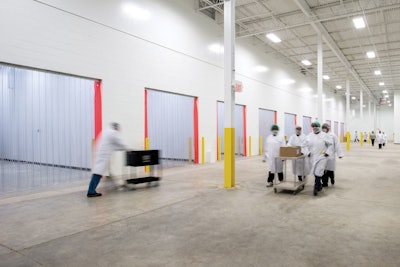 A nationwide provider of turnkey contract packaging and secondary packaging solutions for powdered foods, drink mixes, supplements and diet products, GSC Packaging, Atlanta, specializes in stick packs, one of the faster-growing single-serve packaging formats, as well as standup and flexible pouches. The contract packager works in close partnership with clients for whom quality assurance and food safety are top priorities.

GSC evolved as a sister company from Georgia Spice Company, which is still in operation, and specializes in blending services. The packaging business was founded in 1999; Bob Shapiro, CEO, acquired it from his family in 2008 to grow the contract packaging business—rapidly—from a mere "handful" of people to 300 employees at present. This growth was 100% organic, Shapiro says, as opposed to the result of merger or acquisition. "My goal was growth," says Shapiro, "and increasing business. Fortunately, we landed some key accounts. Packaging is a very scalable business; otherwise we could not have handled this much growth so fast." Contract packaging was always in the forefront of the company's planned expansion, especially as a response to the recession. "Contract packaging is a cost-effective way to market a product," he asserts.

To keep up with the company's rapid growth and burgeoning customer demand, GSC moved to a reconstructed facility in January 2013, more than doubling its former space in a legacy building. The current facility, renovated from the ground up by Sandy Epstein of Sanford Epstein and Associates, PC, Architects (www.sea-us.com), measures 100,000 sq ft.Shaprio notes that the new facility features state-of-the-art layout and design, citing overall sanitary design as well as dust control measures and air-conditioned storage. The Atlanta location allows GSC to offer its customers strategic national distribution.

GSC maintains a strict 5S environment consistent with Lean manufacturing, and derived from Japanese workplace methods that roughly translate into English as: Sorting, Setting in order, Systematic cleaning, Standardization and Sustaining practices.Shapiro sees good housekeeping is seen as a component of quality control. At the end of a shift, everything is put away where it belongs, and the company maintains strict schedules for preventive maintenance and sanitation.

The redesigned facility houses 15 production lines, including seven horizontal form/fill/seal lines, three six-lane stick pack packaging lines, as well as various semi-automatic, large-format automatic, secondary packaging and kitting lines. The hf/f/s machines were supplied by KHS; the stick-pack lines were supplied by Viking Masek Global Packaging Technologies. Facility's design and line layout are integral factors in the GSC's quality and safety compliance effort. Every line using a packaging machine is given its own integrated room or "suite" in an alcove designed specifically for that particular line and packaging function. In turn, each suite is separated physically from other lines, with positive air pressure to prevent cross-contamination of the powdered product. In addition, the open packaging operation is separated from closed, or secondary, packaging operations.

Much of GSC's operation is manual. "Automation doesn't lend itself well to contract packaging," says Shapiro, requiring "long runs with little variation. As a contract packager, we run different products in different configurations all of the time, limiting how much of the operation can be automated cost-effectively. Human attention helps quality control. It adds a level of inspection."

Growing its people, too

The company works two shifts per day, 10 hours each, or 40 hours in four days, with Fridays reserved for overtime. Every shift has at least ten to 12 packaging lines in operation.

The company maintains strictly defined job classifications and a pay scale shared with all employees. Employees can aspire to move up to the next level, or stay where they are if they prefer. Each bracket is significantly higher than the one below it. "We hire the best people we can and pay them well," says Shapiro. "They should be compensated for what they achieve."

"Employees are brought to a level they can handle," explains Shapiro. "The overarching guideline is quality. No one goes up a level until they master that first. They are the masters of their own destiny."

That destiny owes to a diverse workforce. On the company's workforce expansion, Shapiro says "hiring, screening and training so many people in such a short span of time." The company's recruiting is primarily focused on the local workforce, and it's a diverse one that has resulted in a high proportion of Hispanic workers among GSC's employee base.

Marisol Garcia, director of quality, is sensitive to this diversity in training the workforce to follow Good Manufacturing Practices (GMPs). She instructs in English on Mondays and Fridays and in Spanish on Wednesdays. Her background in the pharmaceutical industry has been a key strength to training, quality and GMP compliance, according to Shapiro.

"We have a matrix for needed training based upon each job description," Garcia says. "Every year, we revise the training matrix to meet current needs." While she trains in procedures, especially GMP in hygiene, and writing of documentation, on-the-job training in machinery operation is handled by a supervisor or experienced employee. With training needs established, Garcia spends one hour each week on company procedures with the employees.

Each training session is documented and filed with human resources in the employees' files. Each worker must pass a test to verify the understanding of what was learned.

"Customers expect that of us," Garcia says, adding that "if anything goes wrong in quality or food safety, we write a full documentation report for the customer. At first, employees question why we go to such lengths. But then, when something goes wrong, they think, 'Oh, that's why we keep these records!' Employees now buy into the concept. We build in quality right at the start. You might call it cheap insurance." Shapiro says the employees know when they are appreciated, and to reinforce this, the systems in place let them earn "appreciation lunches" and even time off. "We have a good team and good products. And our customers appreciate that!"
Companies in this article