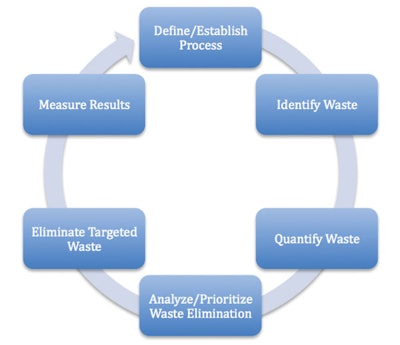 We had a high response rate to the article in the last issue on Continuous Improvement (CI). As a result, we are going to delve deeper this issue with more detail on one element of CI — waste elimination. The topic is noteworthy as it was the theme of the recent F4SS CI Network inaugural meeting.
Some say, "Waste elimination — that isn't new news." No it is not, nor is virtually any other element of CI. The challenge on the CI journey is how to define "waste" via systems and processes. For any manufacturing process there is waste; it is only a question of degree.
The adjoining diagram illustrates waste elimination as an element of Continuous Improvement. With each cycle completed, waste is eliminated and, in turn, the process improves with reductions in time, materials, and/or labor (individually or in combination). This makes the process more efficient and responsive to demand, and at a lower cost. With the waste elimination cycle completed, a new process is created, and the cycle begins again.
New manufacturing processes are easier to wring waste out of, as you would expect. They have not been refined, and there is usually a measure of "low hanging fruit" to be harvested for significant, incremental improvements. For example, at the recent meeting, one F4SS member company cited a new product startup in which materials waste was running three times higher than projected.
To address this opportunity, personnel identified a project team and employed brainstorming, poka yoke, visual factory and standard work tools to address the opportunity. They found an immediate 50 percent reduction in waste simply through poka yoke and standard work visuals. And by project's end they reduced waste by 85 percent and increased production by 17 percent.
Established products can also use CI to reduce waste in areas including packaging constraints, unplanned product losses, high rates of downtime and low MTBF or mean time between failure.
One organization presenting at the meeting addressed these issues by focusing on capacity analysis and "stops" tracking, and identified two primary areas for improvement: defect handling and CIL, or Cleaning, Inspection and Lubrication, activities per shift and per week. Following detailed execution plans, the company reduced process stops by nearly 50 percent in the first six months.
Subaru of Indiana has built its success on Waste Elimination. Check-out this link to learn more: http://www.businessweek.com/magazine/content/11_24/b4232068147070.htm?campaign_id=rss_null
Such examples illustrate how a team focused on waste elimination within a specific manufacturing process can deliver significant operating improvements. The key to sustaining these improvements is in the training and development of operators to promote ownership of the process.
As with any implementation, the success is a function of the quality of execution. Had either of the examples above been executed poorly, there is no doubt this would have been reflected in the results.
Some have asked: "How do I get started?" The first step, as with any initiative, is buy-in — from senior management down to line workers. Everyone must understand the business imperative, as it impacts their role, and be committed to its success.
Sometimes, organizational commitment is the most challenging element as many operations run extremely lean. Even so, a well executed CI program will more than pay itself out. If possible, sell CI staffing on the promise of a one-year payout. If your program is well executed, you will not only exceed that goal, but also free-up additional resources that can be devoted to the effort, increasing your efforts exponentially.
So, if you haven't started a CI program, make plans to start one today. And, please share your success with us!