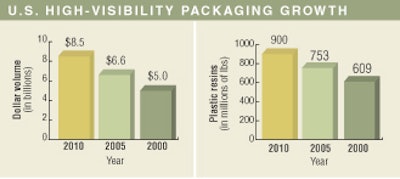 Contract packagers often fill, seal, and ship high-visibility packaging, which includes clamshells and blister packs for mass merchandisers and club stores.
Freedonia says that higher consumer spending and the growing influence of mass merchandisers will drive the need for additional high-visibility packaging. Mass merchandisers tend to favor blister packs, clamshells and other high-visibility containers because they deter theft and tampering while also effectively showcasing the product inside.
However, further growth will be limited by the increasing trend toward offshore production and packaging of products such as toys, games, sporting goods, hardware, and electronics, the report notes.
Freedonia forecasts that the best opportunities are anticipated for carded blister packs and clamshells. They accounted for a combined 58% of high-visibility packaging in 2005. Clamshell demand is bolstered by strong gains in food markets such as fresh produce and prepared foods. In addition, clamshells will benefit from their desirable appearance—thick, rigid construction, which is particularly suited to larger, heavier items, as well as from their ability to deter theft and tampering.
Blister pack demand will rise due to healthy gains for pharmaceutical blister packs resulting from regulatory issues associated with unit-dose packaging.
Windowed packaging demand will increase at a below-average pace, Freedonia reports, because of slow growth for windowed cartons in baked goods, a major application.
Skin packaging will register the slowest growth, due to declining demand for carded skin packs, which have recorded higher production costs, and the shift to offshore production in key applications such as hardware.
Freedonia also reports that food will account for half of the high-visibility packaging market over the next four years, based on extensive use in applications such as baked goods, prepared foods, and fresh produce. The report notes the rising consumer interest in convenient prepared foods such as home meal replacements. These ready-to-serve meals are becoming increasingly available in supermarkets and other venues, and they are frequently packaged in clear clamshells and similar high-visibility containers.
The fastest growth for high-visibility packaging is expected in the pharmaceutical and medical product markets, with advances supported by the patient-compliance and distribution-efficiency benefits of blister packaging.
Companies in this article