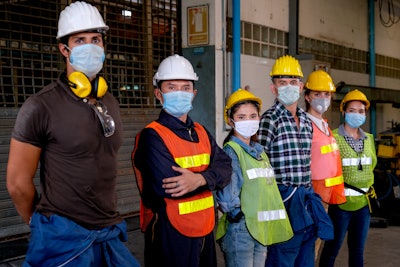 Labor, automation, and productivity were the top three priorities of manufacturing executives interviewed this fall prior to the Top to Top Summit, followed by issues such as growth, supply chain, cost, flexibility, and sustainable packaging. Top to Top Summit is an annual three-day networking event of high-level executives in the packaging and processing industry, who meet to discuss industry problems and solutions with the aim of improving industry outcome. Sponsored by PMMI, this year's meeting (the 15th annual) was held in conjunction with PACK EXPO Las Vegas.
These issues aren't surprising, as they had been prominent prior to the pandemic, and were exacerbated or sped along during 2020 and 2021.
LABOR
The U.S. has suffered an "unprecedented" labor shortage across the board, heightened by the COVID-19 pandemic. In manufacturing, an additional problem has been the lack of skilled labor and retaining employees. To change the perception of manufacturing careers, conversations are taking place around the need to re-shore manufacturing because of its strategic importance and introducing new tech-related capabilities such as the industrial internet of things (IIoT) and Industry 4.0 as good ways to 'sell' manufacturing careers to young people.
---
---
AUTOMATION
Automation had also been increasing prior to the pandemic but became an imminent necessity for many operations as labor shortages soared. Many smaller companies tried advanced automation solutions for the first time and are now eager to implement more.
IIoT and Industry 4.0 technologies are necessary to remain competitive in the industry over the long-run, and companies with high levels of automation will be more productive, resulting in less monotonous jobs and attracting younger employees with technology and higher salaries.
---
---
PRODUCTIVITY
Productivity is a directly affected by labor and automation. "Improving manufacturing efficiency to get more productivity from existing assets," is one concern mentioned, as was "Improving productivity by increasing speeds and automating labor activities." Other areas of concern mentioned were improving overall equipment effectiveness (OEE), improving on-time delivery, meeting customer deadlines, and time to market.
Source: PMMI Business Intelligence, "Key Challenges for Packaging and Processing Operations."
Download a FREE copy of this report below to read more about these discussions.