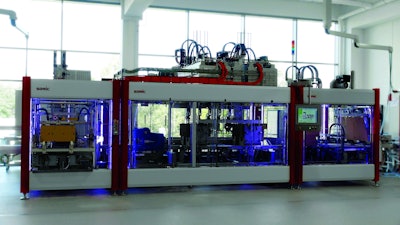 This modular machine is an intriguing solution to North American retail packaging challenges. SOMIC-FLEXX III is a new concept that combines the ability to pack primary packages in a flat, nested position or a standing display orientation.
The machine also is designed to utilize both single or multi-component packaging: one-piece corrugated blanks for standard wraparound shipping cases and two-piece tray and hood for retail ready presentations. It does so by offering the utmost in adaptability and impressive speed, along with the latest generation of industrial automation from Rockwell Automation and UL-certified components.
"Our new machine provides CPG's with the flexibility to meet a variety of retailers' packaging demands," said Peter Fox, Senior Vice President of Sales for Somic America.
"Stand-up pouches, flow packs, rigid containers, and other items can be collated, grouped, and packed in a wide variety of formats. This includes open or wraparound trays, to paperboard cartons and trays with covers. With the development of this machine, we have delivered the ultimate in packaging flexibility and further expanded the SOMIC success story in North America."
Fox explained the SOMIC-FLEXX III took two years to design and develop. He is eager to discuss specific applications with booth visitors at PACK Expo.
"Essentially, the SOMIC-FLEX III is a tray packer with a cover applicator that has been split apart at the center and expanded to include an insertion packer. Each of the three user-friendly modules operates as one machine. The advantage is this machine has the capability to run virtually any pack arrangement, and in any type of shipping or display vehicle.
"Somic has a passion for performance and this machine reflects the thousands of hours that were invested in designing and developing this system," continued Fox. "The tray packer is employed for upright display arrangements, followed by the application of a cover. By replacing the lamella chain (vertical collator) with a control conveyor for horizontal and nested groups, it allows the products to pass through the vertical tray packer. The insertion packer then inserts six items into the pre-formed cartons that were formed in the pass-through tray packer. The final station on the machine glues and closes the wraparound case, or applies the hood or cover to the display tray."
Fox indicated Somic's new 13,000 sq-ft corporate headquarters in the Minneapolis area is expected to play a major role in supporting all new machines in the North American market. It is located just 10 minutes from the Minneapolis-St. Paul International Airport
"We have quadrupled our space requirements and have room for future growth," summed up Fox. "When our Showroom is completed, we will be demonstrating different types of machines. In recent months, we have also strengthened our Service support team. Having the SOMIC-FLEXX III available for the market gets us one step closer to achieving our goals for 2018."
Companies in this article
Videos from SOMIC Packaging, Inc.