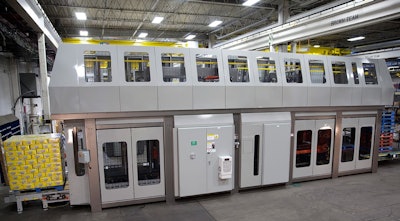 Columbia's patented Variable Position Turner (VPT) technology is also available for applications that are enhanced by using drop down cushioned turners. Columbia is the first in the conventional inline palletizer industry to provide an HMI where the operator can create new patterns or optimize existing patterns via the HMI. This combination makes the HL9200 suitable for accommodating all current and future package types and sizes.
Columbia's industry-leading safety package includes Category 3 safety system with fully integrated upper and lower guarding complete with viewing panels and multiple access doors utilizing a trapped key door access system. This combination of technology and features helps to increase safety and operational efficiency. A patented dual slot automatic hoist pin latching system on the full load hoist provide a redundant fail-safe protection system. Full height light curtains are located on the full load discharge and empty pallet infeed.
Maximum performance is found 24 hours a day, 7 days a week. Standard features include low maintenance, dropped case detection, Smart Squeeze technology, multi-colored light stack to show machine status at a glance, advanced diagnostics, and I/O status screens quickly communicate to the operator the status of the machine.
Companies in this article