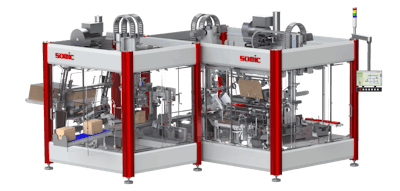 The machine is popular for collating, grouping and packaging products in open display trays, trays with covers and wraparound cases, and can be fitted with individual format tools for a variety of product dimensions and case models.
The 424 T2 (D) is capable of collating 600 products/min., depending on size, and can carton up to 35 cases/min. Samples featuring Milk Duds and Whoppers chocolate from The Hershey Company will be displayed with coffee, cereal, flour, jam, noodles and others.
Companies in this article
Videos from SOMIC Packaging, Inc.