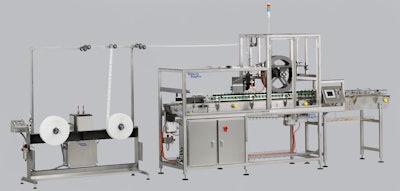 The handle applicator utilizes a continuous motion roll-feed design that reduces the cost of handle dies as well as the number of dies required: one die/bottle neck size, not pack-size configuration.
The latest generation of fully-recyclable HDPE handles are thin, light, and strong. The cost compared to the previous generation of handles has fallen by 26% principally from a 28% reduction in material sourced/handle. Operators no longer have to fill stacks of handles into a machine magazine, but simply load a roll of handles onto the machine. To change rolls, operators weld the end of the in-use roll to the beginning of the next roll with one push of a button. Each machine accommodates two rolls of handles. These features help reduce labor costs.
In the past, handles were applied at the end of the packaging line to bottles already packed in cases. This limited throughput to fewer than 500 bottles/min. The new machine is located right after the capper, reducing the footprint of the new machine.
Companies in this article