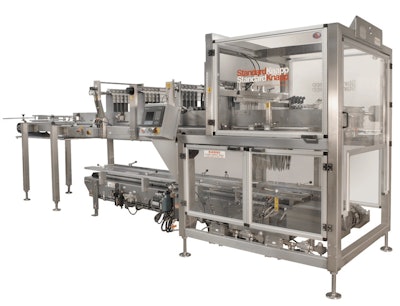 The 939EZ is equipped with an air-over-oil lift table, which controls the descent of product into the case, and a simple indexing case feed which maintains design simplicity without sacrificing control and speed. The 939EZ can operate at speeds of up to 30 CPM.
The 939EZ Versatron is equipped with a variety of rugged and durable case packer change parts, all designed for safe, easy, and consistent 15-minute changeover. Standard-Knapp's patented Snap-in Grid technology makes changeover an easy, one-man operation for a variety of product sizes. Product riding strips are made of extremely durable material and are fitted with unique slide-in design for automatic alignment. Lightweight and strong lane guide spacers help ensure the appropriate width for each product.
The Standard-Knapp changeover cart provides sturdy, mobile storage for easy-to-identify, color-coded changeover parts. The cart holds two complete sets of change parts and offers quick and easy access for fast changeover. Optional equipment and features include a pneumatically controlled flap opener for RSC cases and a PanelView 1000+ graphically driven human machine interface (HMI). 
Companies in this article