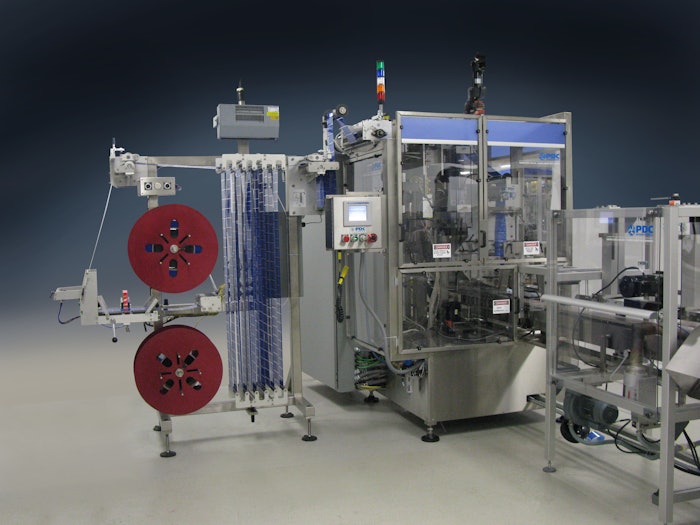 The PDC R-400 shrink labeler handles an exceptionally broad range of packages:  round, oval and square (including tapered) tubs, also cups and bowls, and a wide range of rigid packages.  Systems accommodate packages with capacities between two ounces and one-half gallon.  It also configures easily into a multipacker.
Depending on the container, the R-400 applicator can receive product right-side up or upside-down.  Graphics can extend fully in both directions: under the bottom of the cup, and over the structural flanges of the container, or up to the chime, for maximum visual appeal. This gives packagers flexibility for communicating product information, important marketing messages and high-quality graphic images.
The R-400 is a mandrel-style labeler that uses PDC's proprietary blade assembly, said to be a more effective and longer-lived alternative to the "spinning knives" that are standard in most equipment.  Mandrels, feed screws and other "change" parts can all be switched out quickly thanks to the company's exclusive "tool-less" changeover feature and menu driven parameters.
Designed for thin films (1.5 to 2 mils, 40 to 50 micron).  Compatible with all mono-axial, sustainable and freezer grade shrink sleeve films, including PVC, PET, PETG, OPS and PLA.  
Standard features include a stainless steel frame, upstream photo-eyes, material monitoring sensors and an Allen Bradley PLC platform.  It can be outfitted with product handling modules to group and precisely orient packages for consistent appearance.  Engineered systems also include cup de-nesters, stackers, static eliminators, dryers to dissipate condensate and steam tunnels.  Inline quality control inspection systems and bar code verification are also provided for many systems.      
Engineered for 24/7 operation. Made in the USA.  Uses standard, widely-available components, and is suitable for speed, flexibility and reliability in a single "workhorse" system.
Companies in this article