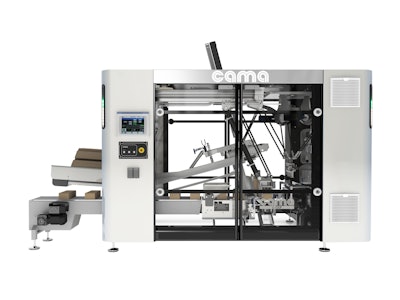 At the show, Cama NA, the North American subsidiary of Cama Group, displayed its new IF316 forming, loading, and closing system, which it explained was recently engineered for a prominent multinational confectionery customer. The IF316 is a compact, lean machine that integrates a two-axis robotic former, a loading system with a four-axis delta robot, and a closing system with a two interpolated-axis robot with a customized lidding tool.
The machine was built by Cama according to its new cabinet-free design concept; the IF316 belongs to the Cama Break-Through Generation series, which features a reduced footprint obtained by integrating the electrical and pneumatic components control cabinets into the machine pedestals. Said the company, such compactness helps to minimize cabling and has allowed Cama to place the motion controls close to the moving parts, providing accessibility for maintenance tasks. The forming station on the IF316 is characterized by the reduced height of the carton blank magazine, which is about 30-in. high.
During machine operation, the carton blank is picked up and positioned in the forming station by a cinematic system that uses a single motor versus the two motors used by most other systems. Once the box is formed, it is placed on a positive-control phasing conveyor, which is synchronized with the bar collation system, the loading robot, and the box-closing module. The delta robot, with a vacuum pick-and-place tool, picks the products from the multiple pocket conveyor and places them into a properly positioned single box. Once the loading phase is completed, the box is moved to the closing station, where the two interpolated-axis robot transfers and closes it, compressing the glue).
Said Cama Marketing Manager Annalisa Bellante, "All Cama machines can be adapted to pack many kinds of products and can be easily integrated in a packaging line just before the palletizing station, providing customers with turnkey solutions."
Companies in this article