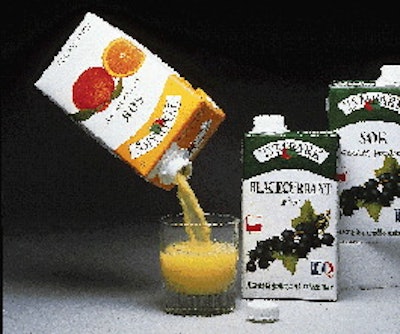 The company, Tymbark of the city of the same name, decided to go the imports one better. Not only did it add aseptic paper-based brick packs to its packaging, it distinguished itself by offering what International Paper (Purchase, NY) calls its Twist-Pak(TM) in a 1-L size. Twist-Pak is the combination of IP's paper/foil/plastic brick-style carton with the addition of a resealable spout and cap combination. The pack was introduced for apple juice in '97, and it allowed Tymbark to create its first family-size aseptic pack. Many other flavors followed.
While not yet available in the U.S., Twist-Pak has several installations worldwide. Tymbark installed IP's SA-50 packaging system, one that produces a side-seam carton. The medium-density polyethylene spout and cap combinations are later applied to the carton at speeds up to 60/min with hot melt adhesive by a machine from IP's Evergreen Packaging Equipment Div. (Des Moines, IA). "The screw top gives consumers confidence," says Tymbark's director of marketing, Piotr Czak. "Mothers say they can lay the carton on its side without leaking, and they can take it on trips."
In addition, the company rebuilt a tray packer to wrap 12 cartons into a single unit. The innovative resealable spout has helped bring Tymbark up to the number three brand in Poland's juice market, says Julian Pawlak, the company president.
The package is truly international. IP produces the board at its Moss Point, MS, mill and sends it to the company's converting operation in St. Priest, France, where it's printed and laminated before being shipped to Poland.
Companies in this article