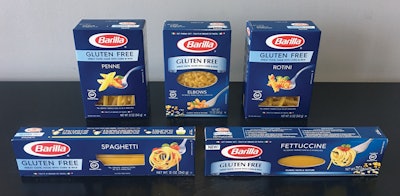 As retail channels continue to grow—now including grocery, club store, convenience, and dollar, among others—retailers are requiring their Consumer Packaged Goods suppliers to provide them with packaging specific to their needs. With this in mind, in expanding its Ames, IA, plant's capabilities in 2015 to include the manufacture of gluten-free pasta, Barilla America, Inc. sought secondary packaging equipment with ultimate flexibility, and the speed to keep up with its processing lines.
The addition of gluten-free processing and packaging to the plant represented a $26.8 million investment. The gluten-free plant operates two processing/packaging lines, with end-of-line equipment chosen to accommodate a range of secondary packaging formats, including different sizes, configurations, styles, and packaging materials. Exploring equipment options at PACK EXPO International in 2014, the Barilla team came upon PMI Cartoning, Inc. and its carton- and case-packing machinery.
"We actually met them at the show by chance," says Stu Bremer, Technical Development Manager. "We wanted to utilize a particular machine, but there were very distinct things we wanted to improve upon. We just happened to go by the PMI booth, and they had a piece of equipment there that had almost all of the improvements we wanted."
Retailer requirements change
Building and operating a gluten-free food plant is a major undertaking. Explains Bremer, "We are GFCO-certified [Gluten-Free Certification Organization] and must meet the parts-per-million requirements for this seal of approval, which are more stringent than the federal guidelines. The people, plant, and physical design of the gluten-free plant were truly developed to provide a 'Plant within a Plant' environment."
Barilla is producing five gluten-free varieties: three "short goods," which include rotini, penne, and elbows, and two "long goods," comprising spaghetti and fettuccine. The products are packaged in four carton sizes—three for the short goods, one for the long goods. The short goods require different-size cartons due to their different shapes.
Where variability really comes into play is with the secondary packaging. To handle retailer requirements, Barilla case-packs carton counts of four, six, eight, 12, and 16 regularly, "or whatever a customer is looking for," says Larry Covington, Plant Director – Ames. Case styles include knockdown, wraparound, or trays, and packaging materials include E-flute, B-flute, and C-flute.
As Covington explains, Barilla uses an E-flute wraparound case for club-store channels such as Costco, BJ's, or Sam's Club, where the secondary packaging is printed with high-gloss, full-color graphics and is stacked on a pallet. A B-flute or C-flute wraparound case would be used for traditional grocery retailers, where cartons are removed from the case and displayed on shelf.
"When we first started producing pasta years ago, we ran 20-count cases of short goods, and that very quickly went away," says Bremer. "Then 16 became our norm, and now it seems to be going even smaller."
Bremer attributes the downsizing of carton counts to shelf space, where retailers are carrying more products, and to the growth of alternative channels such as c-stores and dollar stores. "They don't want a 20-count long-goods case, they want an eight-count case," he says. "That seems to be the evolution. For e-commerce, I think they'd love a two-count case."
According to Covington, when looking for equipment to accommodate these different packaging formats, the challenge was to find machinery that could provide quick, easy, and efficient changeover times and run all the different materials and case sizes, while at the same time making it easy and efficient for machine operators.
Following its chance meeting with PMI Cartoning, Barilla purchased one PMI model HS1-7.5 horizontal end-load cartoner for its long-goods line and two model HCP-27.5 high-speed, all-servo case/tray packers—one for its long-goods line, and one for its short goods.
Flexibility, speed are paramount
As noted, flexibility was key in Barilla's choice of case-packing equipment. Together with that, however, was cartoner speed to ensure a bottleneck was not created with its production lines. On the short-goods side, Barilla was using an existing Senzani vertical cartoner that operates at speeds to 180 cartons/min. On the long-goods side, flexibility was not as much of a consideration for the cartoner, as only one size carton is used. Here, speed was the main factor, and Barilla's goal was 120 cartons/min.
Among the features of the cartoner that impressed Barilla was its "beefiness." Says Bremer, "To have heavy steel on a piece of machinery adds to its longevity because, over time, things will bend, things will break. But, the stronger the machine is, the longer its life."
Another attractive feature: its unique pre-break technology, which allows the machine to handle stiff cartons or those that are difficult to open at high speeds. This is especially an issue for Barilla with its rectangular long-goods carton.
The cartoner's multi-axis, servo-driven design was also a big plus. Not only does it allow Barilla to easily change over to another carton size, if that becomes necessary, but it also allows for less maintenance of and greater access to the machine. "By having individual drives versus mechanically-driven machinery, you eliminate a lot of chains and a lot of shafts, resulting in the elimination of a lot of maintenance points," says Covington. "As for access, everything is highly visible. You have easy access for troubleshooting, cleaning, and making adjustments."
For the case-packing equipment, flexibility was hands-down the most important feature. To ensure speedy changeover, the PMI HCP-27.5 is equipped with 21 Allen-Bradley multi-axis Kinetix servos for automatic, recipe-driven changeovers and simple operation. Operator-friendly controls from Rockwell Automation include ControlLogix and AB PanelView Plus.
"Flexibility is where the servo machine really shines, because it makes the machine a lot easier to change over," says Bremer. "A lot of your changeovers are done right on the display screen."
During the Factory Acceptance Tests of the case packers, PMI programmed the machines with the range of recipes that would be used by Barilla, but Bremer says the process is easy enough to do that Barilla has been able to program new recipes as needed.
Servo controls aid every operation
Operation of the long-goods line begins when product is delivered to the cartoner via a conveyor, specified by Mectra, and is scaled to weight using dual-scale equipment. The scales then drop product into an oscillating product transfer bucket that transfers the pasta into a product infeed bucket.
When product is detected in the infeed bucket, the machine picks and places a carton, lining it up with the bucket. A side-load, barrel-cam loading system then pushes product into the carton, after which it is closed via a servo flap closer and glued shut using a Nordson glue gun. Explains Branko Vukotic, Managing Director of PMI, a pusher head specific to the PMI cartoner assures positive product loading without any misalignment, pinching, or jamming of product.
Next, the carton is laser-coded with Videojet 3130 printer with lot-code information, time of pack, and Best By date. After coding, the carton exits the cartoner and passes through a combination weigher/metal detector from Mettler Toledo. From there, it is carried by conveyor to the infeed of the case packer. Here cartons are stacked per the specified case configuration using a custom-designed, servo-controlled vacuum pick-and-place system. Says Vukotic, the rotating assembly is capable of running cartons upstack flat, rotated completely on edge, or rotated standing up, depending on whether a wraparound case, RSC, or tray is being used. The multi-stack carton configurations are then transferred through a servo-indexing motion in front of a servo side-loading pusher.
In the meantime, case blanks are erected and opened using a dual-arm servo assembly that allows for "pristine case opening," says Vukotic. The case is then delivered in front of the loading station, product is pushed into the case, and the case is indexed on its side into a side-flap closing and gluing station. Cases are sealed via a Nordson Pro Blue system with electric dispensing glue gun.
After cases are discharged from the machine, they convey past a Videojet 2350 ink-jet printer for lot code and barcode printing.
The packaging process for short goods is much the same, but with vertical product loading of the cartons with the Senzani machine.
Operators' seal of approval
Since Barilla's gluten-free plant became operational in 2015, it has brought the total output of the Ames location to approximately 140,000 tons of pasta annually. Using packaging machinery with the speed and flexibility to handle its customers' ever-evolving requirements has played a large role in allowing Barilla to keep the flow of products going out the door.
"The key metric for me when we do these things is operator feedback," says Covington. "The feedback on the long-goods cartoner and the case packers has been extremely positive. To me, that's the final endorsement, where an operator says, 'I love this piece of equipment. It's easy to work on, it's easy for me to make adjustments. I don't have to fine tune everything.' That says a lot about the equipment."
Companies in this article
Videos from Nordson Corporation