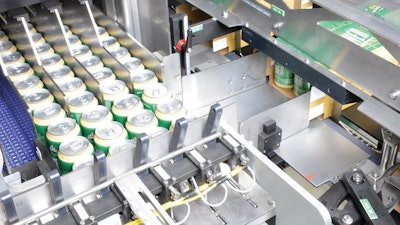 Summit Brewing Co., St. Paul, MN, produces 14 varieties of premium bottled and canned craft beers currently distributed in Minnesota, Wisconsin, Michigan, Ohio, Illinois, Indiana, Iowa, Pennsylvania, Missouri, Kansas, Nebraska, Arkansas, and North and South Dakota.
For its canned beers, the brewer uses a KHS Model DVD40 filler and an Angelus 5M seamer. The system runs at 400 cpm for 12-oz cans and at 360 cpm for 16-oz cans. The 12-oz aluminum cans are supplied by Ball Corp., and the 16-oz cans are from Ardagh.
Summit had been running strictly 6-count can packaging lines. But market demand for canned 12- and 24-counts was growing. Tom Thomasser, Chief Operations Officer for Summit Brewing, says, "New compact cartoning equipment capable of accommodating our size range and speed requirements was the only way to meet that demand. In addition, we wanted the ability to offer a 30-pack carton to commemorate our company's 30th anniversary."
In February 2016, after deliberating on various available cartoning options, Summit selected the Vantra™ IM Cartoner from Douglas Machine Inc. The customizable system features servo positive drive, tool-free changeover for varying carton lengths and widths, linear compression for glue/tuck closing, and Allen Bradley CompactLogix motion and logic controller. Cartoning and tray-packing equipment is supplied by Graphic Packaging, Paktech, and Pratt Industries. The multi-pack cartons are printed offset in five colors and are closed using a gluing system from Graco. Carton coding is accomplished with equipment from Markem-Imaje.
Thomasser notes, "Douglas assisted in the start-up and training, but we completed the installation ourselves. We had a Douglas technician on-site for two days for machine check-out and then for two days to monitor production runs. Installation of the Vantra required additional conveyor modifications and equipment. Douglas staff worked closely with staff from Sentry to ensure all the components fit correctly and the programming was complete."
Planning ahead
Thomasser reports, "We are pleased with the cartoning system because it offers us the versatility we need to provide a more flexible size range and easy, labor-saving changeovers. Not only can we do 12-, 24, and 30-packs, but we also now have the future option of adding 4-, 6-, 15- and 18-packs. Douglas provides custom solutions—not just 'cookie-cutter' machines. We were able to work with their engineering team to build a machine exactly as we wanted it without having to modify our processes. The installation was seamless with no integration problems, and the cartoning speeds match up with our can filling rates."
Companies in this article
Videos from Graphic Packaging Intl.