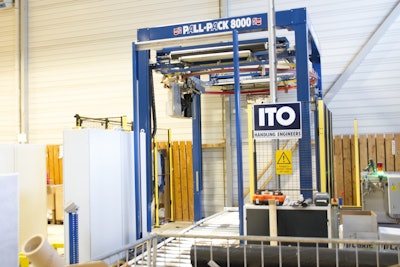 The new installation has led to expanded cooperation with ITO Pall-Pack, the supplier of the Autostore system. The system's robots continuously pick all kinds of sports and leisure activity products from locations throughout 11 floors. Autostore was implemented during August 2015, and the project will be completed in 2016. Tore Einan, the operating director of logistics at Gresvig, says that these efforts are paying off both at Gresvig's primary warehouse and at their stores all over Norway.
"Here at the primary warehouse we're seeing triple efficiency, and Autostore is giving us higher efficiency and quality throughout the value chain," notes Einan. "With improved storage density, our space requirements are reduced, and faster picking at the warehouse reduces the need for hired help. Previously, operators had to drive to the product to collect it, but now Autostore will deliver it directly to the operator." Furthermore, the largest sports goods provider achieves more retail-friendly deliveries, with an overview of contents with each unit.
"Since every shipment of products is packaged to be more retail-friendly, the employees at G-Sport, G-Max, and Intersport spend less time unpacking, sorting, and placing the products, allowing them to spend more time with customers," adds Einan. "The advantages are many, and a strong majority of our staff want to work with Autostore."
Gresvig has been using a Pall-Pack 8000 stretch wrap machine by ITO since 2013. It was the natural choice to enter a dialogue with ITO regarding a complete pallet handling system with an elevator for receiving incoming products on pallets. The implemented solution consists of a transport track for pallet reception and an automated elevator going to the second floor, where the pallets are collected before being placed in Autostore or on pallet places. Pallet flow pallet racks (gravity flow) are used for eight pallet tracks, amounting to a total of 54 pallet spaces.
"The ITO system is fully automated and is working as we had hoped," says Einan. "Compared to the past, when incoming pallets were hauled using a traditional freight elevator and placed more randomly, this is a far more efficient solution."
The market for sports and leisure activity goods is a tough one, and Gresvig is focusing on reducing the costs of each produced unit for products moving through their own storage locations. The stores have limited storage space, and they often receive product deliveries twice a week. It's stated at Gresvig's primary warehouse that up to 80 % of products can be handled by Autostore, and that the investments made last year have been paying off since the beginning.
"This is a logistics-intensive industry, and so we are always seeking the best logistics solutions. Choosing ITO as one of our partners was an easy decision. We already knew them as a reliable provider of dependable solutions through the stretch wrap machine, and they have an excellent ratio of price to performance. Our experiences with ITO's service and response time has been excellent, and it doesn't hurt that the solutions are produced and customised within Norway," concludes Einan.
For more information see our website: http://ito.no
Companies in this article