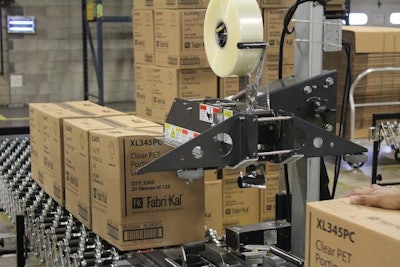 Specifically, they wanted to improve shipping case integrity. So when they saw that they could do just that by adopting ShurSEAL case sealing systems from Shurtape Technologies, they jumped on it.
Rich Harth, Quality Engineer at Fabri-Kal, was assigned the task of implementing the change-over. A key attribute of the new sealing system was more reliable, consistent tape application pressure. During the sealing process, packaging tapes require wipe-down force to create a high-integrity bond to the shipping case. Without sufficient pressure, seals have a higher risk of failing during transit and storage. Environmental factors, such as temperature changes during transport and storage, can contribute to loosening of seals. As Harth explains, "If case tape joints fail, the interior of the containers could get exposed to the elements within manufacturing and warehousing facilities. We believed the ShurSEAL solution would help provide better tape adhesion."
Harth adds, "We worked hand-in-hand to find the best case sealing system to fit our needs. Shurtape made the recommendations, and then helped us through the installation and testing. The close partnership between our two companies has allowed us to address potential issues and follow through with appropriate solutions to keep our lines running. Communications have been key."
The installation process was done rather quickly with only limited line modifications. Most of the lines required simple "drop-ins" because the ShurSEAL Solution easily retrofits into a range of case-erecting and sealing systems without expensive additional capital investments.
Since installing the new sealing equipment, Fabri-Kal is achieving outstanding wipe-down force to create stronger seals. Harth notes, "There's been a marked improvement in tape adhesion on our cases. And our staff also has commented on the ease of maintenance."
Companies in this article