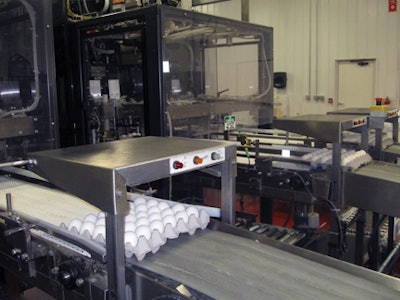 Forsman Farms, Inc., Cokato, MN, ships fresh shell egg products to restaurants, retailers, and distributors throughout the Minnesota area as well as to distributors in other states, including California and Texas. The eggs are packed in various counts in tray flats and cartons with egg-shaped contours for "nesting" the fragile products. The cartons and tray flats are supplied by
Pactiv Corp
.
The filled cartons and flats are shipped in corrugated cases (15 dozen per one cubic-foot cases and 30 dozen per 1 x 2-feet cases). Cases, slip sheets, and corner guards designed to protect the delicate eggs while they are on pallets during shipment are supplied by International Paper and Falcon Packaging.
Committed to maintaining a safe and secure work environment while maximizing overall efficiencies, Forsman Farms decided to automate its egg packing operations. Forsman commissioned Massman Automation Designs, LLC to custom design, build, and integrate the system.
Plant manager Drew White says, "We chose to work with Massman Automation on designing new equipment because they are a local Minnesota company, and we strive to support area businesses and commerce. Also the Massman staff is highly professional and has a high level of expertise in automated systems. The company was able to deliver the whole package, from custom design to installation to upkeep and maintenance, in a cost-effective manner. The Massman technicians were involved in every aspect of the installation, training, and start-up, and that is part of the reason why we chose them."
In the Massman-designed system, four dual-lane case packers accept and position the shipper cases, automatically fill the egg cartons or trays into the cases, and route the packed cases through a sortation system and onto a robotic arm in the palletizing zone. The robotic arm and conveyor system palletize the case-packed egg products. Massman recommended incorporation of a robotic arm from ABB.
Massman Automation Designs, LLC utilizes an innovative approach to isolate the case pack for the robot by lifting the upstream cases versus using side clamps. This ensures a gentler handling of the fragile eggs.
The Massman Automation case packers, conveyors, and the robotic palletizer arm were installed at the Cokato facility in March 2009. The automated system was combined with Forsman's existing state-of-the-art egg washing and grading system to create a fully automated, high-efficiency egg handling and packing operation. Now only a few select shipments are hand-packed. The automated system has decreased labor and error costs, improved job ergonomics for plant employees, and increased product output.
Summary in the 'egg shell'
Summing up the benefits of the automations upgrade at Forsman Farms, White points out, "It is important that our customers know that we see the changes in the labor markets and realize that customers want the best product for their money. We are a locally owned and operated family business that desires to grow with our community and provide farm-fresh, high-quality eggs as we have been doing for generations. The benefits of the new automated system include a five-year payback on labor savings, substantial safety improvements, and a decline in potential workers compensation risks. We have seen casing and palletizing efficiencies increase by 20 percent. And the egg breakage percentage has declined with the conversion to automated case packing due to more consistent egg handling and automatic features that can be readily adjusted should breakage occur on the line."
Companies in this article