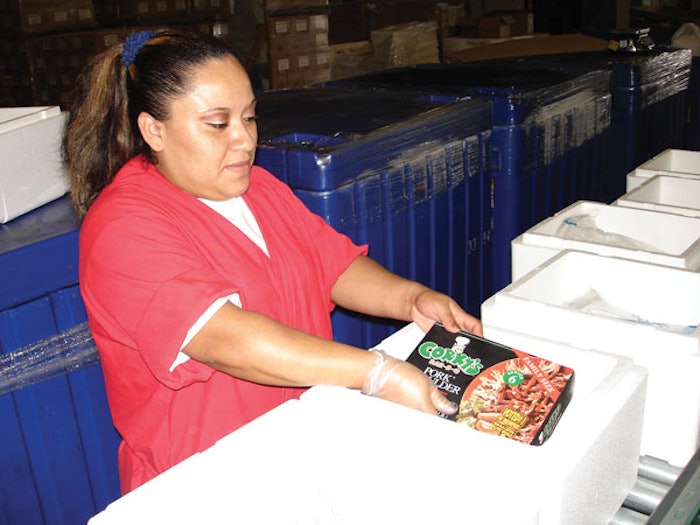 Corky's Food Manufacturing, Memphis, TN, specializes in the production of a variety of barbecued meat products—including pork ribs, pork shoulders, beef briskets, and some poultry items—mainly for frozen distribution to markets in the South and Midwest U.S. The company also ships to American military installations in Asia and Europe. About 45% of Corky's business is in the retail sector, about 15% in mail order, about 10% in foodservice, and about 30% of Corky's product is distributed through a television shopping network.
For primary packaging of these meat products, Corky's uses various-sized dual-ovenable CPET tray systems supplied by Gage Industries, Inc. (www.gageindustries.com) and Preferred Packaging (www.prefpkg.com). And some products are pouch-packed, using preformed film pouches supplied by Custom Co-Ex Technologies, Inc. (www.ccx1.ca), vacuumized and sealed using Ultra Vac equipment from Koch (www.kochsupplies.com).
In July 2007, with its customer base and mail orders considerably expanding, Corky's concluded that some of its packaging operations needed to be upgraded to be more efficient and cost-effective. The company hand-packs expanded polystyrene foam coolers, supplied by ThermoSafe Brands (www.thermosafe.com), with 10 to 15 lbs of product (weight includes dry ice). Originally, these shippers were cased in corrugated packaging for shipment.
Corky's general manager Joel Storck notes, "We wanted to reduce shipper packaging materials both for cost and environmental reasons. And we wanted to improve packing speeds. So it made sense to us to convert from corrugated shipping cases to shrink-wrapping of the foam shippers."
When Storck and his team looked around, they were impressed with the equipment design and technical support offered by Arpac (www.arpac.com) and its approved shrink-wrap film supplier Associated Packaging Inc. (www.associatedpackaging.com). The Arpac shrink-wrapper Model 25TW-28 provided the medium-volume functionality that Corky's needed. And the readily available, expert service support from Associated Packaging also was a key to making the new equipment installation decision. Storck says, "We are a relatively small operation, so we wanted assurance that we could get quick, reliable tech support service on the equipment, when needed. Associated Packaging provides that assurance."
Shrink-wrap perks
In November 2007, Corky's Food Manufacturing installed two Arpac Model 25TW-28 shrink-wrap systems at its plant in Memphis. With these systems, the company is wrapping about 1,200 shippers per hour per machine, using 2-mil shrink film. This is in contrast to about 500 to 600 shippers per hour that were being packed in corrugated cases. Storck estimates that, between November 2007 and July 2008, the company saved about $200,000 in packaging materials by eliminating the corrugated case system.
He adds, "Because the shrink-wrapped coolers can be floor-loaded, we no longer need to buy wooden pallets and palletizing equipment. We also were able to stop buying adhesive labels for the corrugated cases, and started self-printing paper labels for the coolers.
"There also has been a reduction in freight weight—about three-quarters of a pound per cooler—and labor cost savings of about 40 percent. By simplifying and reducing our packaging material needs and freight weights, we have advanced our Green Program objectives. And we now have a smoother, more automatic shipper-preparation operation that allows us to crank up productivity in a competitive marketplace."
Companies in this article