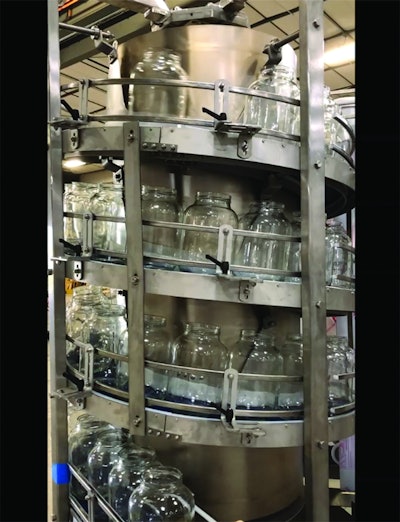 The overhead table top plastic chain accepts single file product from a customer supplied discharging de-palletizing machine. The empty containers then decline down a 10 in. wide, 125 degree plastic belt "Drum Spiral" that end transfers to a jar discharge pushing device.
Spiral accumulation provides gentle handling on one continuous belt with no intermediate dead plates or end-to-end transfers. They're designed for either bottom or top loading as the line dictates.
Rotary spiral accumulators give your production line that few extra minutes needed for staging, filling, or automation withoutstoppage, indexing, delays, or downtime. Multiple interconnected drum spirals can be placed in-series to provide even more staging for higher production lines.
Watch a video of the machine.
Companies in this article