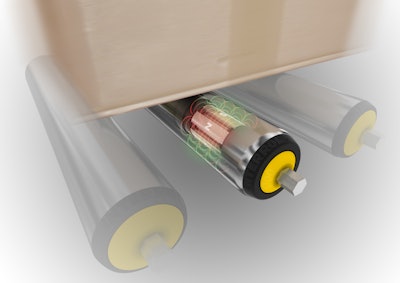 Developed in response to the demand for a more efficient and cost-effective material handling systems, Interroll's MSC 50 is a technically and economically superior solution, and the first of its kind in the industry. The MSC 50 is easy-to-install, maintenance-free, and boasts a host of useful features that together deliver process reliability and attractive ROI.
The MSC 50 is the most cost-effective solution currently on the market for controlling the speed of boxes and plastic trays traveling on gravity roller conveyors and spirals or the end sections of sorters. Suitable for handling goods weighing up to 77 lb., this innovative system provides customers with total control over their conveyor and ensures lightweight packages move smoothly, while limiting the speed of heavy goods traveling along the conveyor.
The MSC 50 features an eddy current brake, which makes it maintenance-free. Double shielding prevents magnetic emissions entirely, and due to its bidirectional braking function, the MSC 50 cannot be mounted incorrectly. In addition, the MSC 50 speed controller is easy to install and is well-suited for retrofitting existing gravity conveyor installations. Different MSC 50 lengths and quantities can be used to scale the design and provide the ideal solution for a variety of applications.
The MSC 50 is designed for a maximum load of 112 lbf and a maximum infeed speed of 500 fpm. Maximum input is up to 3,000 units per hour. It has a specified ambient temperature range of 40 to 104 deg. F and is available in roller lengths of 8 to 55 in.
Companies in this article