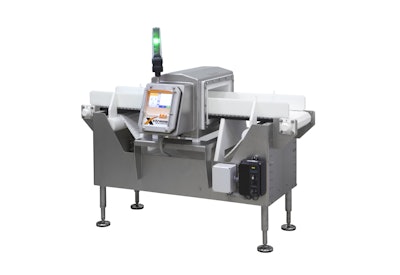 According to John Klinge, Eriez Market Manager-Light Industry, "Tramp metal produces various signals when passing through metal detectors," said Klinge. "Some products generate signals that can confuse typical metal detectors on the market into thinking there is metal where there is none. Our Xtreme Metal Detector Enhanced Platform ignores these signals and is thus able to detect the smallest of metals in challenging products such as 40-pound blocks of cheese."
According to Klinge, this Xtreme Metal Detector Enhanced Platform adds to the breakthrough qualities of the company's line of XtremeMetal Detectors. Made for light industry applications, including chemical, food processing, packaging, textiles, pharmaceuticals, tobacco, plastics and rubber, the Xtreme Metal Detector Enhanced Platform boasts a completely re-designed and incredibly user-friendly interface that is ETL/CSA/CE approved. It is also certified for the harshest of wash down environments with an IP69K designation.
Other highlights include easy set-up, dedicated reject log and event log. "Eriez modeled the interface after today's smartphones," Klinge pointed out.
The Xtreme Metal Detector Enhanced Platform offers greater sensitivity with its multiple frequency range and vibration immunity. Many configurable inputs and outputs enable easy installations and give customers the ability to add multiple options. Maintenance is trouble-free with the unit's large control opening for easy access to wiring.
Multiple Xtreme Metal Detectors can be remotely monitored with Eriez' 24/7 Remote Service Platform. When necessary, this enables the Eriez service team to monitor and analyze each system, as if the technician was standing at each machine.
"We promised two years ago that Eriez would expand our line of metal detectors to meet the evolving needs of light industry to detect smaller and smaller pieces of metal contamination and we have accomplished this," said Klinge. "The Xtreme Metal Detector Enhanced Platform offers flexibility and the ability to customize a metal detection system to match specific requirements. If a customer has a product that is challenging for a metal detector, they should contact the Xtreme Team to see if the Xtreme Enhanced Platform can be a viable solution for them."
Companies in this article