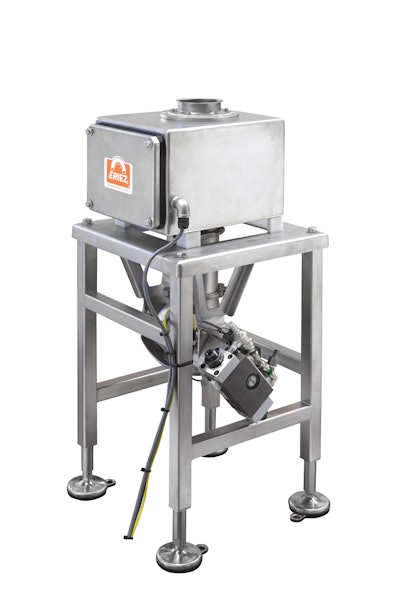 Eriez' Xtreme® vertical drop metal detectors are engineered to detect the presence of ferrous, nonferrous, and stainless metal contaminants in gravity free-fall applications, particularly for food processing, packaging, pharmaceutical, and plastics/rubber applications.
Xtreme metal detectors are designed with the shortest overall height in the industry and offer best-in-class sensitivity, according to the vendor.These units feature quick-release Jacobs connections, remote electronics, anti-static food grade pipe, automatic reject valve, and stainless-steel ceiling support plate. Available in wall- or floor-mount designs, Xtreme vertical drop metal detectors strike a balance between absolute detection of all metal contaminants and elimination of false signals that slow down production.
These metal detectors offer easy setup and reporting as well as remote access capabilities. They feature a 7-in., easy-to-use touchscreen interface, various preprogrammed languages, multiple USB and interface ports, low air pressure alert, and consolidated power supply.
Besides enhancing product purity, Eriez Xtreme detectors protect vital downstream equipment from metal in the product stream, thereby reducing machinery downtime and maintenance costs.
Companies in this article