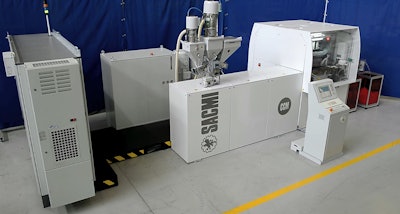 Called COOL+, this improved mold cooling system – the outcome of years of research in Sacmi's development facilities – significantly reduces cap cooling times and, consequently, total cycle times, thus boosting productivity by as much as 50%.
Able to be installed across the CCM (Continuous Compression Moulding) range the COOL+ features a modified coolant liquid circulation system inside the mold which ensures all parts in contact with the plastic are cooled.
Tested extensively at industrial level over the last year (i.e. used by major European players to manufacture several hundred million caps), COOL+ has proved to be problem-free in terms of process stability, mold life, and side-effects on the machine.
The perfect solution, then, for companies looking to install new production lines, but also a highly interesting one for existing CCMs, which can be upgraded to incorporate the new mold with a limited-cost conversion kit.
COOL+ molds do involve higher costs than their traditional counterparts, but this is more than compensated for by increased plant output capacity.
With testing now over, Sacmi has already been marketing the patented COOL+ system for some months now - and customer satisfaction levels are running high!
As always, another key factor is Sacmi's far-reaching sales network: extending across five continents, providing valuable customer support right from the design stage and offering local personnel training and after-sales assistance services.
Companies in this article