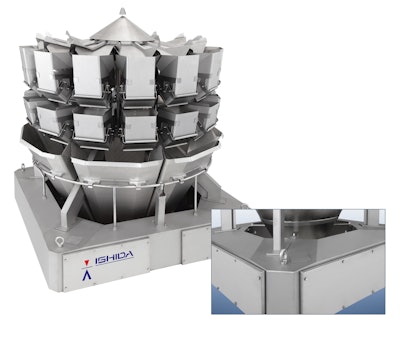 The RV-Series features automatic set-up and self-draining surfaces, wireless operation and access to statistics, making net-weighing of dry, fresh, and frozen foods even more efficient. 
With IP ratings of IP66, IP67 and IP69K, the Ishida RV-series washdown model is designed to be a watertight and durable multihead weigher.  To improve sanitary operation and reduce cleaning time, RV weighers feature a sloped, self-draining radial feeder cover and main body.  A new streamlined design minimizes the number of bolted fasteners around the hopper drive units.  Uses only FDA-approved plastics and sealing materials throughout the machine. 
Ishida's unique Auto Setup feature speeds changeovers and reduces operator error.  It automatically proposes optimal operating settings based on only five key parameters related to product characteristics and desired performance.  Auto Setup eliminates the time-consuming process and potential for errors involved in manually entering lots of feeder and timing settings. 
The RV weighers feature new electronics that transmit data 300% faster than existing models, enabling the weigher to respond faster to control inputs.  There's also an improved infeed camera to provide a sharp, wide-angle view of product flow through the radial feeders.
To improve energy efficiency, RV weighers feature three power modes.  Electrical components also have a lead-free finish and are RoHS (Restriction of Hazardous Substances) compliant to reduce environmental pollution.
Available features to customize Ishida RV weighers include operator fingerprint verification, wireless access via Android tablet computer and Smartphone to make machine adjustments and view statistics, and remote operation, diagnostics and maintenance.
Companies in this article