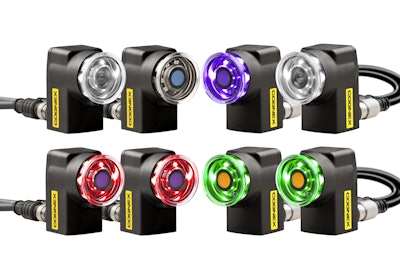 Other new position tools integrated into Checker perform a variety of other important applications such as inspecting cap height and skew, label position, fill level, web position, and component placement.
New colored lighting and filter options are integrated into the sensor, helping to optimize image contrast in the inspection process and bring out more of the features to be inspected regardless of factory conditions, resulting in more consistent and reliable inspections. Integrated polarization windows remove specular glare from images featuring highly-polished or reflective surfaces.  Eliminating glare helps create the best possible images and a more consistent inspection result. 
With Checker 4G7X, production managers can simultaneously check for the presence, size and position of features on a single part.  Additionally the Checker 4G7X seamlessly integrates into a factory network, communicates with PLCs, and features integrated color lighting and filters to form the most powerful Checker vision sensor to date.
Companies in this article