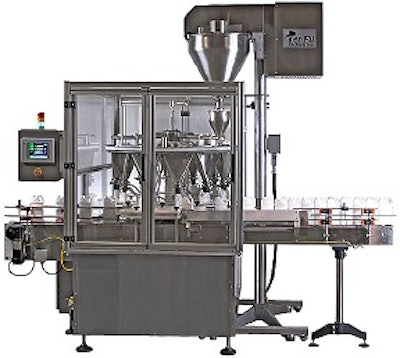 *Products filled: powder and granular products
*Containers filled: jars, bottles, boxes (all rigid containers)
*Fill speed: 60 - 400 containers per minute
*Fill accuracy: +/- 1 - 3%
*Fill size range: 0.5 grams to 10 kg
Special features:
*Available with one or more auger heads
*Each of the funnels is equipped with orbital vibration to speed
product flow into the container.
*This unit is provided with overload clutches for the entrance
and exit starwheels, funnel turret and infeed timing screw.
These safety features automatically shut-down the system when
an overload or container jam occurs.
*Equipped with a variable speed conveyor for consistent and
trouble-free container infeed and exit.
*All electrical and electronic controls components are mounted in
a NEMA 12 dust tight cabinet. NEMA 4X stainless steel
watertight cabinet is available as an option.
*Can easily be integrated with a checkweigher for automatic fill
weight adjustment.
Companies in this article