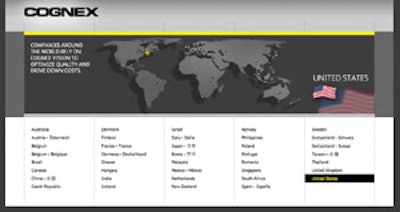 Cognex
www.cognex.com
New global Web site has a special focus on machine vision case studies and learning resources for the manufacturing world. More than 80 application case studies, selectable by industry and application, show how customers are benefiting from machine vision. Another section of the site called Working with Cognex gives visitors options for learning more about vision technology through a range of seminars, training programs, and tradeshows.
Pearson Packaging Systems
www.parts.pearsonpkg.com
This new parts and service Web site allows customers to find an expanded offering of the company's parts and services. They can look for and order online replacement parts, with most orders shipping within 24 hours, search for available upgrade kits on existing equipment, request information on equipment rebuilds and refurbishments, and more.
UCP Limited
www.ucplimited.com
This global closures systems group launched its Web site featuring a complete product catalog and up-to-the-minute information on industry trends and company information. New site offers visitors an easier and faster way to locate technologies. Site is tailored specifically to the wine and spirits community, providing customers regular updates and access to useful resources.
Companies in this article