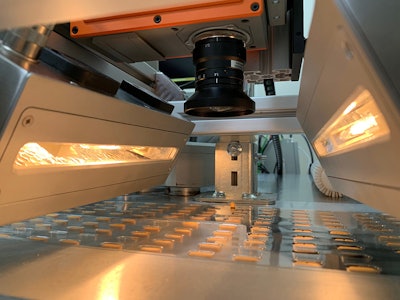 In pharmaceutical processing, active ingredient uniformity tests—which must be passed in order for a batch to be released—are typically performed on off-line sampling via laboratory equipment. Offering an alternative to conventional methods, SEA Vision has developed a system which is installed directly on the production line.
At Healthcare Packaging EXPO, SEA Vision showcased its HarleNIR, offering qualitative analysis of solid products combined with real-time rejection of faulty products. At the show, HarleNIR was installed on a Marchesini counter, the Compact 12, a monoblock unit.
The integrated vision system features a hyperspectral camera working in the near-infrared spectral band to perform quantity and quality analysis and offers non-destructive monitoring of 100% of the products, faster batch release times, and cuts the risk of releasing out of spec product. It was created to prevent commingling and to detect tablets with a different chemical composition or an incorrect concentration of the active ingredient, which would otherwise go unnoticed as they are the same shape and color as the others around them.
Inspection for a range of OSD products
The system can be used to analyze the chemical composition of oral solid dosage products such as capsules and tablets whether printed, molded, coated, flat, or embossed.
With single product rejection, the system can zero in and discard the individual faulty tablet, which prevents product waste and the need for re-processing a whole bottle for a single faulty tablet.
Counting, capping and vision in one
With the HarleNIR on the Compact 12 monoblock at the show, SEA Vision and Marchesini have incorporated counting and capping operations within a single unit. (For more, read about the two companies partnering for a blister packaging line.)
The machine is set up to handle all the main types of capping systems (screw-on, press-on, crimped) and offers a wide array of applications to guarantee total product control. The tare weight and the gross weight of the bottle are checked to calculate the net weight of the product inside it.
The HarleNIR can be integrated through a series of proprietary algorithms that generate a data package for transmission to the machine on which the system is installed. To ensure ease of data transmission, the Ethernet D-Bus communication protocol is used, which allows ultrafast transmission (in under a millisecond).
SEA Vision is focused not only on advanced software systems, but also on system/packaging machine integration, particularly as the DSCSA's 2023 deadline approaches. Manufacturers marketing in the U.S. will be required to include aggregation features within serialization systems to trace pharmaceutical products, and easy integration and implementation with existing machinery is key for new traceability systems.
Companies in this article