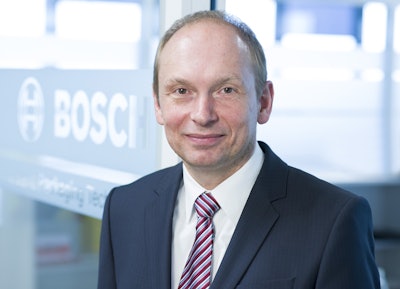 At a day-one press conference at interpack 2014, Bosch Packaging Technology Executive Vice President of Engineering and Manufacturing Dr. Stefan König unveiled some of the company's latest machinery offerings, developed to provide CPG customers with flexibility and food safety.
In regards to flexibility, Dr. König said that it is playing an ever more-significant role. "This is because our customers want to be able to switch between different products and packaging formats as simply and as quickly as possible," he said.
New machinery introduced at interpack by Bosch to aid in flexibility included:
• The Module++ concept, which allows customers to select standard machinery that is then adjusted to meet their needs. From additional single units to automation and entire lines, Module++ covers a range of applications.
• The new high-performance biscuit packaging machine—one of Bosch's Seamless Systems machine—is capable of two types of packaging styles and can switch from one to the other in less than 3 min.
• The BLO linear blowing machine for PET containers that can handle a range of container shapes, volumes from 60 mL to 2 L, and—combined with aseptic filling equipment—can be used for dairy-based drinks.
• The FXS Combi, which fills and seals nested syringes, vials, and cartridges. The machine is said to be the first with an integrated capping station for vials and cartridges.
• The AIM 8 series of fully automatic camera-based inspection machines for vials that can operate at 600 containers/min.
• The CCM 3100 case packer, which enables quick and tool-less changeover between vertical (stand-up) and horizontal (lay-flat) bag orientations.
• The entry-level SVI 2600 vf/f/s machine, which is suitable for a range of industries, including confectionery, snacks, grains, and other food and nonfood products. The machine is designed for small- and mid-sized companies seeking to automate their packaging process.
• The PME 4161 vf/f/s bagger, with a top-closing unit designed for coffee manufacturers looking for high flexibility. The coffee packing machine enables quick changeover of top closures and package styles. The equipment offers inert gas flushing and an integrated value applicator, as well as the KWI 6000 checkweigher.
• The multi-format Sapal Starpack 600L chocolate wrapping machine, which now provides all three options for die-fold, brush-fold, and double-twist wrapping on the same machine, with changeovers accomplished in as little as 45 min.
As for food safety, Dr. König said "is becoming more important. He added, "This is the result of ever-stricter legal requirements related to the filling and packaging of foods and pharmaceuticals. When it comes to safety and hygienic standards in production and packaging processes, consumers are unforgiving of mistakes."
New equipment introduced around food safety included the following:
• The FVS auger filler and SVC 2620 vertical bagger, designed for enhanced cleanability, versatility, and ease of use.
• The Sigpack RN vertical sachet machine for liquid applications, which offers a cleaning function to ensure thorough sanitation of product-contact parts.
• The Pack 301 ID inverted horizontal flow wrapper, developed for the packaging of soft, sticky, flexible, or difficult-to-handle products and introduced for the European market. The wrapper transports the packaging film from below, while the product is fed directly from the feeding system onto the film.
Companies in this article