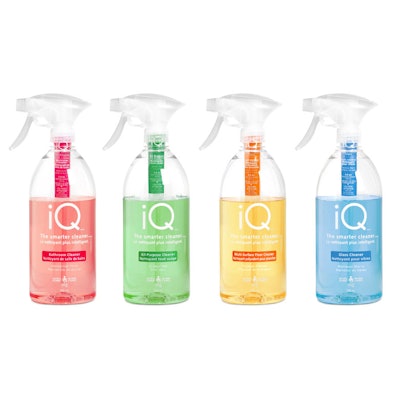 Planet People's iQ line of household cleaners has received the 2010 Green Awards Best Green Packaging award.
iQ is a new line of eco-friendly cleaning solutions that features reusable bottles and sprayers, along with patented REFill (Reduced Environmental Footprint) cartridges containing different concentrate solutions for its all-purpose cleaner, bathroom cleaner, glass cleaner, and floor cleaner. By filling the PET bottle with their own tap water at the point-of-use and inserting a no-mess, self-deploying polypropylene cartridge into the neck of the bottle, consumers can reduce plastic waste by 80%, compared with traditional household cleaner bottles.
Along with a polypropylene sprayer, the materials used provide for a package that is completely recyclable, according to Planet People. By eliminating the need to ship unnecessary packaging and water, the brand's carbon footprint is reduced by 70%.
"We are thrilled that iQ has been recognized with this honor," says Eric Green, president of Planet People, based on Toronto, ON, Canada.
iQ cleaners initially are available in the U.S. in the Hannaford, Sweetbay, and Spartan Grocery store chains, and they will launch nationally early in 2011. The brand also is available at select stores in Canada.