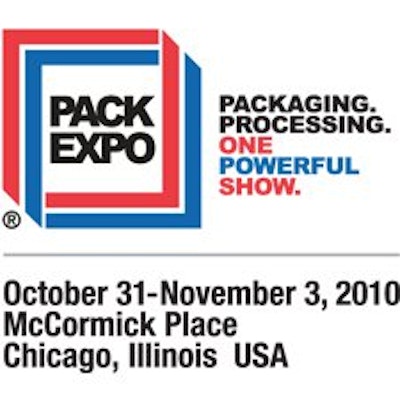 PMMI President & CEO Charles D. Yuska notes that PACK EXPO, with its 45,000 attendees and 1,600 exhibitors, will provide an excellent backdrop for the innovations GMA speakers address.
"GMA member companies such as Kraft, Georgia Pacific, Unilever and the Hershey Company come to PACK EXPO to discover the latest manufacturing developments. Now they'll find an additional education benefit in attending," says Yuska. "It's part of PMMI's plan to add value for all attendees."
General Sessions will cover leadership, food safety and modeling the factory of the future.
Alan D. Wilson, president & CEO , McCormick & Company, will cover "Manufacturing Excellence: From the Top Down to the Feet on the Ground," a look at how the leaders of consumer packaged goods (CPG) companies translate vision into action to drive quality and excellence in manufacturing throughout their organizations. (General Session 1; Monday, Nov. 1; 3:00 pm)
Bob Bracket, Ph.D., Senior Vice President and Chief Science & Regulatory Affairs Officer, GMA, will moderate a panel including Dane Bernard, vice president, food safety & quality, Keystone Foods; Matilda Freund, Ph.D., senior director, food safety, Kraft Foods Inc.; and Joe Levitt, partner, Hogan Lovells, LLP. The discussion, "Welcome to the New World of FDA Food Safety Modernization" will cover the impacts of implementing the 2009 FDA Food Safety Modernization Act — including facility hazard evaluation and preventive controls, food facility re-inspection, and the allocation of inspection resources based on risk profiles of food facilities. (General Session 2; Tuesday, Nov. 2; 8:30 am)
Kevyn Renner, Senior Technology Consultant, Chevron Global Manufacturing, will present the final General Session, "Back to the Future in CPG Manufacturing: Re-thinking Simulation & Modeling." Renner's presentation will cover the implications of virtual modeling and the manufacturing possibilities that can overcome time zones, speed trials & learning cycles, save time and money, improve speed-to-market and foster innovation. (General Session 3; Tuesday, Nov. 2; 4:30 pm)
Pamela G. Bailey, president & CEO, GMA, says, "PACK EXPO is always home to the innovations GMA members need to move their businesses forward, and there's no exception in 2010. The show will deliver extraordinary opportunities to see the latest technology in action, network with industry leaders and now, to hear from true visionaries about the innovations and trends shaping the world of consumer goods manufacturing."
The rest of the Manufacturing Excellence Conference falls into three workshop tracks — product safety, sustainability and operational reliability. Watch packexpo.com for details.
To register for PACK EXPO 2010, visit www.packexpo.com.