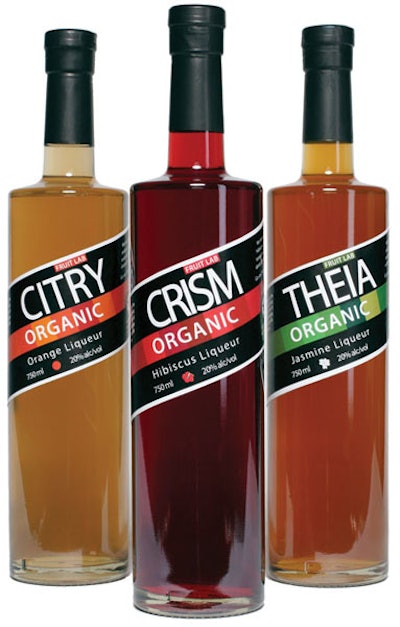 When planning the launch of its Fruit Lab Organic Liqueurs, the company wanted to try a new approach to green labeling. Previously, Modern Spirits had used compostable corn-based labels. But those labels presented some problems with ink absorption and premature breakdown.
As Modern Spirits co-founder Melkon Khosrovian says, "We decided that we couldn't use extremely fragile labels, even though they may offer the highest level of eco-friendliness. They tend to disintegrate during shipment and use. We also didn't want to go to the other extreme, using the most beautiful labels that will stay in the waste stream forever."
After shopping around, Modern Spirits discovered labels made from 100% post-consumer waste, supplied by Labeltronix . Modern Spirits chose the matte version of the labels with digital printing using soy-based ink. The new labels, made from recycled paper stock, present a good appearance and feel, take ink well, and exhibit high tolerance to shipping and handling conditions.
Introduced in May 2009, Fruit Lab comes in three different flavors—Citry (Orange), Crism (Hibiscus), and Theia (Jasmine). The digital printing process allows swift label printing flexibility, even on short runs. The Labeltronix lean labeling solution allows Modern Spirits to print the labels they need when they need them, so there is no excess inventory. And fast label turnaround gets the product out the door quickly to accommodate market demand.
Lightweight glass bottles are supplied by United Bottles. Bottle closures are supplied by Supremecorq , and tamper-evident neck capsules are supplied by Maverick.
Khosdrovian says, "Our customers love the labels. They are both functional and eco-friendly. We see eco-friendly packaging as a necessity. Right now, suppliers are still charging 20-100 percent more for this packaging, which makes transition tough. But we're confident that this situation will change in the next two to three years, and that eco-friendly packaging will, in fact, cost less because of its inherent efficiencies—less raw material and less energy to manufacture and transport."
Modern Spirits is dedicating one percent of its Fruit Lab liqueur sales to planting fruit trees in various parts of the world that don't have enough trees or food.
Companies in this article