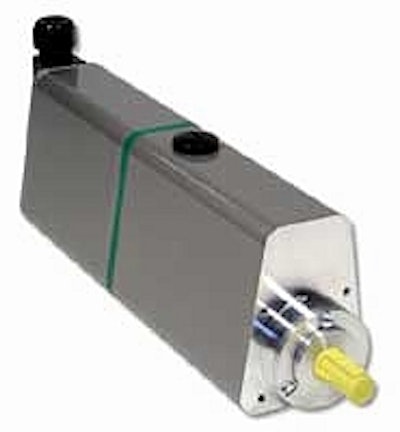 A new integral servo motor/drive is the first designed specifically to overcome the physical constraints of beverage pharmaceutical food and other liquid packaging applications. ELAU's PacDrive™ SCL-055 is a purpose-built unit combining servo motor and drive in the same trapezoidal enclosure ideally suited for direct integration into rotary tables used in filling capping and labeling operations.
From Gen1 straight to Gen3
Previously the difficulty running motor cables from rotating machine components to separate amplifiers located in control cabinets had precluded the servo automation of these machine categories. Conventional servo motor form factors are square and are not well suited to mounting on rotary tables. The SCL-055's reduced space requirements and simplified one-cable installation enable a fundamental change in the way that bottling lines will be designed.
The new design has generated strong initial interest among packagers and machine builders for the flexibility it provides to dynamically change label sizes package formats and closure types. Combined with the functionality of the PacDrive automation system the new servo motor/drive promises to move liquid filling capping and labeling applications directly from Gen1 mechanical designs to true Gen3 mechatronic machines.
Application-specific construction
The PacDrive™ SCL motor's IP67 rated sealing and Hart Coat ® surface treatment are resistant to liquid intrusion as well as corrosive chemicals necessary for aseptic filling. A reinforced bearing handles greater than normal radial loads so that the motor can be directly coupled with a belt drive.
The motor enclosure and the drive electronics are highly engineered to provide the required torque and thermal dissipation requirements. The motor design has an excellent performance-to-size ratio low electrical losses and a high resolution encoder with electronic type plate (Sincos 1 million increments / revolution). RMS holding torque is 1.0 Nm peak torque is 4.4 Nm and rated speed is 3 rpm. Up to 99 of new SCL-055 servo motor/drives can be controlled by a single PacDrive™ controller.
For more information visit www.elau.com email [email protected] or call ELAU at 773/342-8400.
And see us at Pack Expo Las Vegas Booth S-5540!
Companies in this article