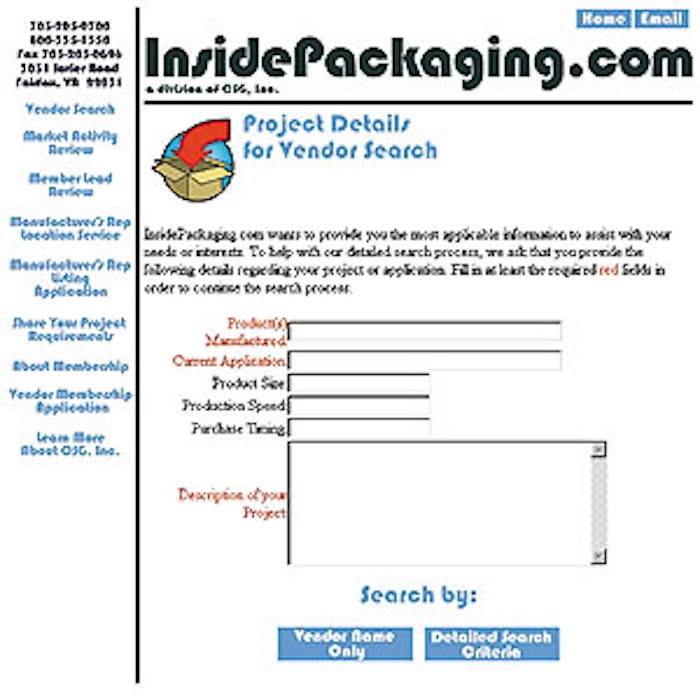 "It is the fastest and easiest way for me [to find suppliers]," says Sue-Wah-Sing. "I just go on the Internet and start clicking away."
A year ago, Sue-Wah-Sing typed in a search for packaging on the Google search engine and clicked on www.insidepackaging.com. He registered online at no cost and began a vendor search by filling out an online request. In response, he received an e-mail with a list of 10 suppliers.
"Going to the Vendor Search [on InsidePackaging.com] simplified things and saved hours of time," says Sue-Wah-Sing. He finds searching on the Web versus hard-copy or cold-calling searches to be 30 to 50% faster.
In this listing of suppliers, Sue-Wah-Sing noticed D.L. Tech (Montreal, Quebec, Canada). "An established equipment supplier of ours had recommended D.L. Tech to us in the past," he says. "Once we saw the company on the InsidePackaging.com list, it confirmed that the company was reputable."
D.L. Tech's sales and marketing manager Jean-Francois Biron wrote up a quote from the online request submitted by Sue-Wah-Sing. Sue-Wah-Sing then made a plant visit to see the machinery, and a new quote was created to finalize the sale. LePage spent $28ꯠ on a labeler for its contact cements packaged in a variety of container sizes and $40ꯠ on a capper for its wood glues packaged in custom-shaped bottles.
InsidePackaging.com offers vendor searches by category and territory. Other features include a market activity review, member lead review, and manufacturer's representative location service. "Although there are some good ways on the site to get what you are looking for, I did not have to use those services," says Sue-Wah-Sing. "It was pretty straightforward. I filled out a request and got lucky."
For the supplier's side of the story, see: packworld.com/go/w003
Companies in this article