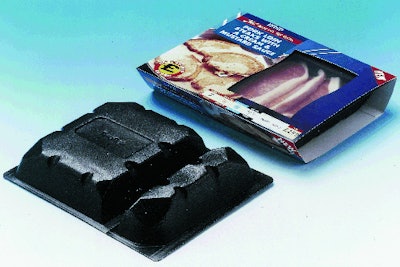 The two-compartment black trays are perforated so that consumers can tear off the small compartment containing the sauce and microwave its contents while the meat entree is being fried or grilled.
Packaging the products for Tesco is North Devon Foods, located in Barnstaple in southwest England. "Tesco was looking for a fresh new image for this exciting range of products," says North Devon business development manager Jeremy Chew. "We have created an exciting new concept in the chilled meat convenience food market."
North Devon Foods uses a Powerpak thermoform/fill/seal machine to form the trays. After the entree and sauce are loaded and the tray is backflushed with a mix of carbon dioxide and oxygen, a clear film lid is heat sealed over both compartments. The Powerpak machine comes from Convenience Food Systems (Avon, MA), as do the forming web and lidstock. The TiroMap forming web is a foamed PP joined to a five-layer coextrusion that includes ethylene vinyl alcohol and a polyethylene layer that is heat-sealable and peelable. Lidding is a 60-micron (2-mil) lamination of nylon and PE with an antifog coating, and it's supplied by Sudpack (Hemel Hempstead, England).
Package graphics are delivered by a windowed paperboard sleeve. Packages are given a best-if-used-by date that's 10 days out from date of packaging. Individual stores send daily requirements to Tesco headquarters, which downloads the data to North Devon. This permits North Devon to send daily supplies to seven or eight regional distribution centers, and from there they go with other refrigerated foods to individual stores. There consumers pay about £2.99 (US$6.00) for the 400- to 600-mg entrees.
Companies in this article