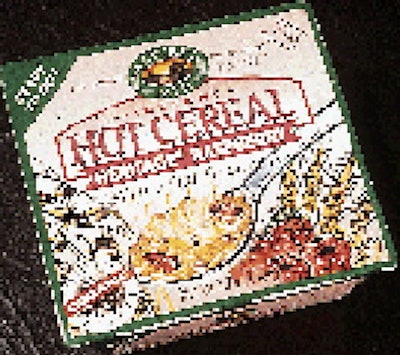 The eat-in tray with integral lid is similar to what's used for some frozen dinner packs, but it's been adapted for what the organic cereal company believes is the first hot-cereal application. "We like this because of its low profile and the fact that it's made from one piece of material," says Arran Stephens, president.
The trays are supplied as flat blanks, litho-printed in five colors plus an aqueous coating by Somerville Packaging (Mississauga, Ontario, Canada). Somerville describes the material as standard 18-pt ovenable board from Westvaco (New York, NY) that's polyester-coated for heat-seal and barrier properties.
At the Nature's Path plant, blanks are formed in-line on equipment that Stephens declines to identify, though it was sourced and installed by Somerville. After filling with an unidentified auger filler connected to a scale supplied by Triangle (Chicago, IL), trays are heat-sealed. Packaging speeds range from 60 to 80/min, says Stephens.
During the cold months, the products are available in natural food stores such as Whole Foods, as well as traditional groceries for 68¢ to 98¢. They're also distributed to foodservice customers.
Next up: a high-barrier version of the package for cold cereal, which Stephens says is more moisture-sensitive than hot cereal. That pack is slated to be launched in August.
Companies in this article