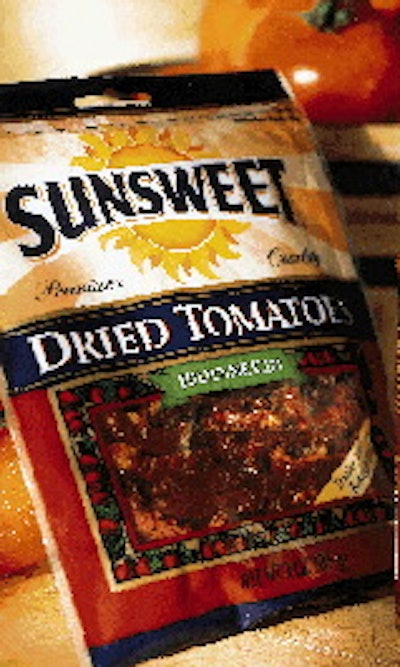 "What we've tried to do with this packaging is to reposition Sunsweet to a much different demographic," says Nager. "The buyer for sundried tomatoes is a little bit more affluent, a bit more upscale and tends to be a bit younger than our core consumers for prunes."
Nager says the brighter logo and the package in general is more contemporary. But Sunsweet didn't want to change the packaging too much. "In some respects it ties in very closely to [the prune] packaging," says Nager. "People will understand that the same company selling these tomatoes is selling the prunes."
Supplied by Printpack (Atlanta, GA), the pouch material is an extrusion lamination of 1/2-mil polyester and a 2-mil linear low-density film that Printpack doesn't identify. The polyester layer is reverse-printed in eight colors on a flexo press. A window frames the product, and there's a zipper closure supplied by Presto Products (Appleton, WI). Printpack supplies Sunsweet with rollstock, and Sunsweet makes the pouches and applies the zipper on a vertical form/fill/seal machine.
Consumers can buy either sundried tomato halves or sundried julienne tomatoes in the pouch. These retail for $2.99 to $3.59 and were rolled out nationally in February. Marinated dried tomatoes are available in a 8.5-oz jar for $4.29 to $4.99.
Companies in this article